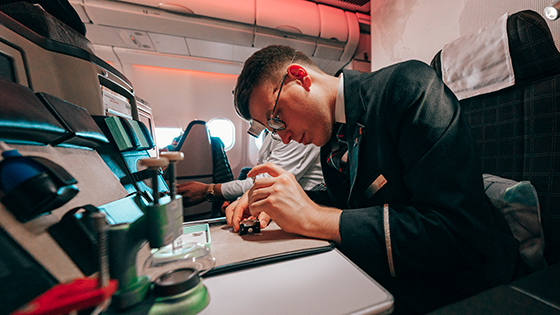 A groundbreaking collaboration between Geneva Tourism, the Grand Prix d'Horlogerie de Genève (GPHG), and Swiss International Air Lines (SWISS) has emerged to celebrate Swiss quality and craftsmanship. At a cruising altitude of 10,000 metres, a watch was meticulously assembled during an unexpected watchmaking workshop on airline's Geneva to New York flight, thereby showcasing the Swiss city's tradition of precision, skills and expertise.
The assembly was carried out by a flight crew member, guided by an independent master watchmaker. This unique and unprecedented watch was unveiled alongside the 84 officially nominated timepieces taking part in the GPHG travelling exhibition that made a stopover in New York, standing as a testament to Swiss excellence.
Each year, the Grand Prix d'Horlogerie de Genève celebrates the vitality, creativity, and horological excellence by showcasing the watches nominated by its Academy during an international tour before the awards ceremony which takes place in November in Geneva. This series of exhibitions allows a diverse and cosmopolitan audience to discover and admire the horological innovations of the year.
November 09, 2023