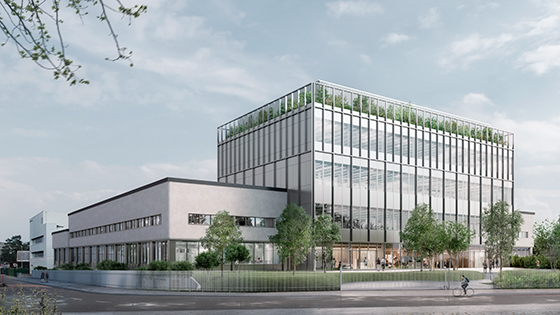 On 6 September, Audemars Piguet announced that the construction of its new industrial building in Meyrin has started. Located in the street next to the current factory, this project combines architectural heritage and technical innovation: the restoration of a historic building on the new site will be joined by the construction of a new building.
The new Manufacture site is located in Meyrin-Satigny, on the former site of the Uhlmann-Eyraud pharmaceutical company built between 1963 and 1965. This U-shaped building, noted for its historic importance and acquired by Audemars Piguet in 2023, has been refurbished in recent months to accommodate the Manufacture's activities. The project emphasises the optimisation of existing spaces and includes the construction of a new central building with three floors of production space, as well as the construction of two wings on the upper ground floor. The new manufacturing site will house Audemars Piguet's case and bracelet production, as well as its New Technology Centre.
The character of the original building has been preserved, as has its U-shaped design arranged around a courtyard garden that links the various spaces. The metal structure and plasterwork façades of the original building will form a harmonious contrast with the transparent volume of the new building, made of dynamic glass.
Designed to take advantage of natural light and encourage interactions between employees, the new Manufacture will allow Audemars Piguet to offer a pleasant working environment and ensure the well-being and comfort of its teams.
The new manufacturing site will comply with Audemars Piguet's standards in terms of eco-responsibility. The historical building, whose exterior will be renovated, insulated or partially redone, will be certified Minergie Renovation, while the new building will be awarded the Minergie-P Eco label.
The roof sheds on the historic part of the building will provide a constant supply of natural light, as will the use of dynamic glass on the façades. Solar panels will also be installed on the roof slopes. To optimise the layout of the exterior spaces, the project will also include the planting of all kinds of vegetation in the surrounding areas – such as in the courtyard, in the entrance and on flat roofs.
To ensure easy access for employees, the site is located close to public transport and will offer a 56-space underground car park.
Renovation and construction work is scheduled for completion in 2025. The new factory will have a surface area of 9,400 m2 and will be able to accommodate 350 employees.
September 14, 2023