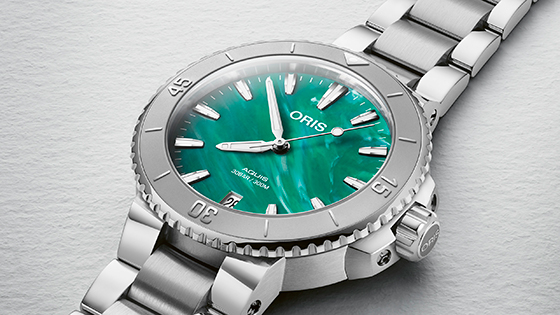 The watchmaking house is pursuing its Change for the Better mission by teaming up with Bracenet, a responsible company that transforms upcycled "ghost" fishing nets into accessories.
Experts estimate that up to a million tonnes of fishing nets enter the oceans every year, and that a ghost net will keep fishing for 400-600 years.
It is only recently that awareness of ghost nets has begun to rise, thanks to the vision and efforts of people like Benjamin Wenke and Madeleine von Hohenthal, founders of Bracenet.
They became aware of this grim phenomenon while diving off the coast of Tanzania in 2015 and determined to do something about it. They began making bracelets out of upcycled ghost nets… and Bracenet was born. Today, the company makes a catalogue of products and accessories that transform this potentially life-threatening waste product into something beautiful that also carries a strong message.
Now, the brand introduces the Oris X Bracenet, a special-edition version of the Aquis Date diver's watch with a spectacular dial made of recycled ghost and end-of-life nets.
Making these kaleidoscopic dials involves taking small green, blue and white offcuts and gently warming them until they melt into the raw material. As they cool, they harden into a thin sheet of material. This is then cut to size, planed, and sanded down until it is just 0.3mm thick. The material contains no additives, fillers or glues. No two dials are the same.
There will be two stainless steel versions of the watch, one with a 43.5mm case and a second with a 36.5mm case. Both have automatic mechanical movements and unidirectional rotating bezels, and are water-resistant to 300 metres. Both are symbols of hope and change to come!
September 14, 2023