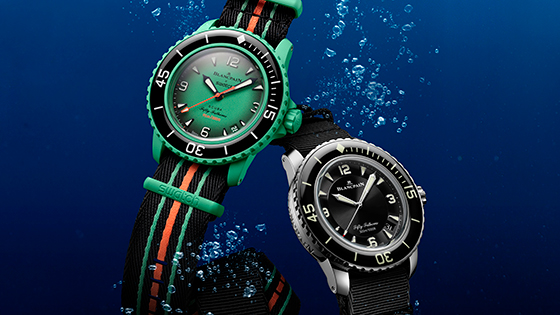 Swatch is celebrating another Swiss watchmaking icon, Blancpain's Fifty Fathoms. This watch was born exactly 70 years ago and revolutionized watchmaking by becoming the first true diver's watch. Launched in 1953, the Fifty Fathoms was created by a diver to meet the needs of underwater exploration. It immediately became the professional timekeeping tool of choice for diving pioneers and elite marine corps around the world.
Swatch In its new collaboration, Swatch honours this icon with five new models, all while staying true to itself in a fun, playful way. Named Bioceramic Scuba Fifty Fathoms, the collection references the brand's own diver's watches, the Scuba line. The watches in this non-limited collection faithfully reproduce all the Fifty Fathoms hallmarks: superior water resistance, outstanding legibility, mechanical movement, secured rotating bezel and anti-magnetic protection. Blancpain and Swatch drew their inspiration from the deep seas to create a collection of five Swatch models. Each one is named after one of the blue planet's five oceans: Arctic Ocean, Pacific Ocean, Atlantic Ocean, Indian Ocean and Antarctic Ocean.
True to form for a diver's watch, this watch is water resistant in deep water, down to 91 metres. It's another nod to Blancpain: the name Fifty Fathoms refers to the fathom – historically the maritime measure of depth in the English-speaking world – and equals
91 metres (or 300 feet).
The Bioceramic Scuba Fifty Fathoms is equipped with a Swatch mechanical movement, the Sistem51, the first and only calibre whose production is entirely automated. The mechanism is anti-magnetic thanks to its Nivachron hairspring and has just 51 parts including one central screw, as well as a 90-hour power reserve. the back of all five watches features an illustration of a magnificent, colourful animal found in all five oceans: the nudibranchs. They are featured in a digital print on the movement's rotor. This rotor allows the watch to recharge automatically with a simple movement of the wrist.
All the models in this collaboration between the two Swatch Group brands are made of Bioceramic. This unique material is patented by the brand and made of two-thirds ceramic and one-third biosourced material derived from castor oil. As an expression of commitment to ocean preservation, the Nato straps are made from recycled fishing nets that have been removed from the sea.
The new Blancpain X Swatch Collection comes in exclusive colours that were specifically developed for this collaboration. They add a strong, playful and original touch to Blancpain's professional diver's watches. Every Bioceramic Scuba Fifty Fathoms has its own identity and makes its own allusions to the Blancpain collection.
September 14, 2023