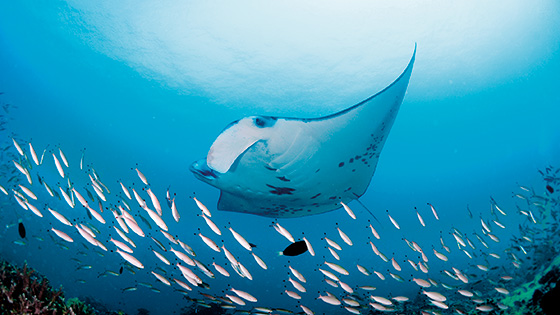 The health of the oceans and the richness of their biodiversity are crucial to the balance of the planet. That is why Carl F. Bucherer has been supporting the Manta Trust Foundation since 2013 and is now reaffirming its commitment by presenting the Patravi Scuba Tec Verde, a timepiece whose sales will help support the Trust's activities.
The model unveiled this year features a dazzling green on its wave-patterned dial, bezel and rubber strap with recycled PET textile insert. This colour evokes the intense hue of the waters around Isla de La Plata, a small island off the coast of Ecuador. In August and September, more than 22,000 giant Manta rays converge there every year in a gathering ten times larger than any other sub-population of the species in the world. This year, the Lucerne-based company is funding an entire team of researchers to study this population of "sea devils".
The research team in Ecuador spend their time diving with Manta rays to measure their size, taking photos to identify individuals and tagging them to track their movements once they leave the area. The work allow the trust to monitor the overall health of this population, determine what draws these magnificent creatures to this particular site, as well as better understand the human impact on rays and their environment. By engaging with the local community and highlighting the significance of this species and its role in maintaining a healthy ocean ecosystem, the team also hopes to generate support for the conservation of this incredible population of endangered oceanic Manta rays.
September 07, 2023