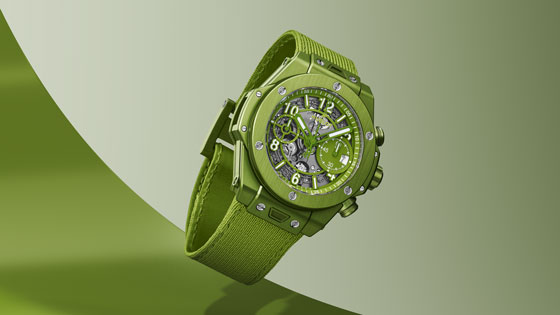 The watchmaker and Nespresso have unveiled the Big Bang Unico Nespresso Origin timepiece based on recycling and circularity. This watch is the first to be made using recycled Nespresso aluminium capsules and coffee grounds.
This is an unprecedented collaboration, signalled by Nespresso's iconic "N" engraved on the crown, and its iconic colour – a nod to the Master Origins Peru Organic capsule. The density of the two materials is expertly blended to ensure the durability of the product. The Big Bang Unico Nespresso Origin's 42-mm case is crafted in recycled aluminium, of which 28% comes from Nespresso coffee capsules, anodised in vibrant green, then satin finished and polished. The crown and pusher undergo the same treatment. The caseback and container are both made from Eco-Titanium (recycled titanium). The titanium folding clasp of the rubber strap, with its decorative recycled aluminium cap, and the sporty buckle of the Velcro strap are also in the same anodised green colour.

The Big Bang Unico Nespresso Origin takes the recycled coffee grounds from Nespresso capsules and applies the magic of Hublot's patented One Click interchangeable strap system to them. To create the rubber strap, Hublot has skilfully balanced the ratio of each ingredient to achieve the perfect colour and quality. For the fabric strap, Hublot has collaborated with SingTex, one of Nespresso's partners that was already using recycled coffee grounds to produce a fabric called Scafé. This 100% recycled fabric (composed of 5% coffee grounds and 95% recycled polyester) is being used for the first time to make a watch strap. This subtle balance required to ensure the strap's durability also sees the rubber strap fusing 4.1% coffee grounds, 8.2% recycled white rubber and the usual Hublot formula.

In another first, the Big Bang Unico Nespresso Origin will come in the Hublot Greenbox case, a brand-new case developed by the watchmaking manufacturer that will be used for all its watch collections in the future. Entirely made of oak, including its hinges, it is carved from mostly massive, traceable wood, whose sourcing and manufacture both promote short supply chains. It is designed to be a reusable item, with 98% of its removable interior made from eco-friendly components including recycled fabrics, plastic yarns and PET, as well as recycled paper and cardboard that are eco-labelled. For the collaboration with Nespresso, the Hublot Greenbox case is specially adorned with the two brands' logos, affixed using coffee grounds.
June 08, 2023