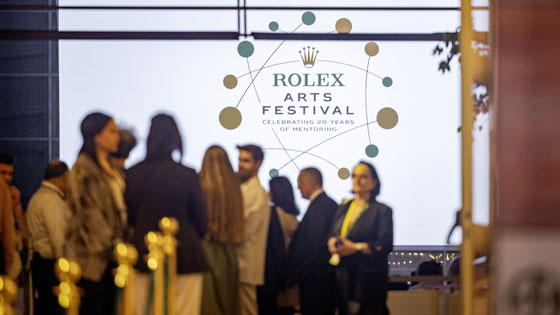 For more than half a century, Rolex has partnered some of the world's most talented artists and leading cultural institutions to celebrate excellence and contribute to perpetuating artistic heritage, creating a link between the past, present and future.
Through the Rolex Perpetual Arts Initiative, a broad portfolio of arts that extends through music, architecture, cinema and the Rolex mentoring programme, the brand confirms its long-term commitment to global culture. In all these endeavours, Rolex supports artistic excellence and the transmission of knowledge to future generations, making a lasting contribution to culture worldwide.

To open the Rolex Arts Festival, a gala evening was held at the Stávros-Niárchos Foundation Cultural Centre in Athens. A multi-generational community of artists and arts professionals met with leading figures from the Greek cultural world to celebrate 20 years of the Rolex Mentor and Protégé Arts Initiative.
As part of the programme, dozens of world-renowned artists – in the realms of architecture, theatre, visual arts, film, dance, literature and music – who have won awards from prestigious institutions such as the Oscars and the Nobel Prizes, were reunited with their protégés, some 50 now internationally renowned artists whom they have accompanied as mentors. Several of these former mentors and protégés took part in 18 artistic events during the festival – including performances, readings, exhibitions, discussions – which the public was fortunate enough to enjoy from 26 to 28 May in various venues around Athens.
June 08, 2023