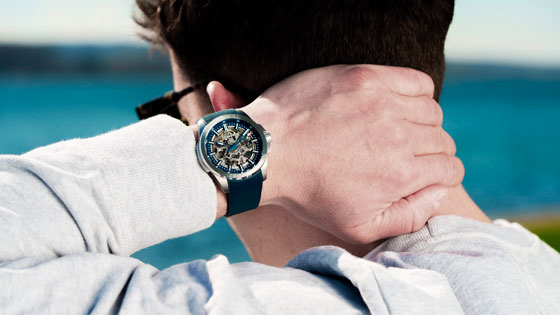 In 2023, the independent and family-owned watch brand marks in 2023 five years since its founding in 2018.
Making an unwavering commitment to the Swiss-made label and close collaboration with the best Swiss suppliers, a group of successful entrepreneurs, accomplished athletes and seasoned industry veterans came together in 2018 to create a watch brand that challenged the watch industry. With a combined total of 45 years of experience in the world of watchmaking, the founding family had the industry know-how to set up the brand for success. Norqain Founder & CEO Ben Küffer enlisted other board members including Ted Schneider, Mark Streit and Roman Josi, and they began building together to grow the brand.

While some things have remained the same – Norqain's HQ in Nidau near the heart of mechanical watchmaking, its strong link to and support of ice hockey, and a true sense of adventure – there are other changes that signify key highlights. At the end of 2019, Norqain had 70 points of sale in 12 countries; that number will have rocketed to 280 points of sale in 45 countries by the end of 2023. Additionally, the brand has two flagship boutiques in prime locations in Zermatt and on Orchard Road in Singapore, with one more set to open in Zurich during the summer of 2023. Partnerships with the NHLPA, Spengler Cup Davos, TCS New York City Marathon, the Dubai Marathon and the Ochsner Sport Zürich Marathon enhance house's image as a dynamic brand.

The ultimate high-performance sports watch – the Wild One – was developed in collaboration with Jean-Claude Biver and features the brand's proprietary Norteq material. At the same time, a commitment to using only animal cruelty-free straps, contributions to the Hakuna Mipaka wildlife sanctuary, a CO2-Neutral certification by Swiss Climate and support of the Butterfly Help Project in Nepal underscore Norqain's efforts to make a positive impact that grows with the brand.

And, of course, there are the relationships the brand has forged within the world of watchmaking: with movement manufacturer Kenissi and industry legend Jean-Claude Biver.

In celebration of its anniversary and accomplishments, Norqain is launching five new references as part of its Independence collection – a nod to its five years as a successful independent brand.
June 01, 2023