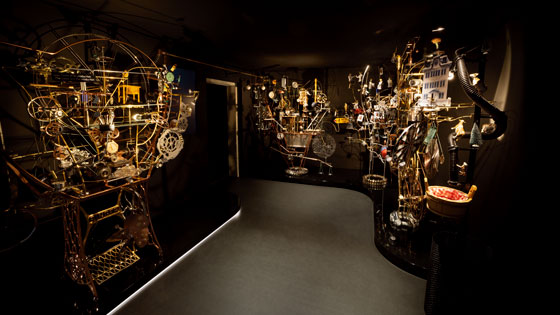 Alongside the permanent collection of the Musée Atelier, this new temporary exhibition, entitled Simply Complicated, offers a playful look at the technical and creative development of the new Code 11.59 by Audemars Piguet Ultra-Complication Universelle RD#4.
This model was born from the watchmaking brand team's desire to create a mechanical wristwatch that would be both highly complicated and simple to use. Designers, constructors, watchmakers and craftsmen worked together to explore new horizons, combining their respective expertise to push the limits of watchmaking artistry. The result of their efforts is Calibre 1000, a selfwinding movement with over 1,100 components, 40 functions and 23 complications, which include a grande sonnerie, supersonnerie, a perpetual calendar, a split-second chronograph and a flying tourbillon.

The exhibition enables visitors to discover this human adventure in images through the testimonies of numerous artisans from the Manufacture. The visit begins with a Universal Machine, a complicated structure designed by artist Pascal Bettex. The machine has sounds, movement and lights that draw visitors into the magic of the mechanism. In the next room, visitors can delve into the holy grail of complications with 11 glass walls representing the 11 layers of the Calibre 1000 movement on which the components are projected. Finally, a space devoted to ergonomics showcases the level of complexity achieved and the many challenges met by the Audemars Piguet teams via models, reproductions and didactic animations. On show until the end of 2023.
May 25, 2023