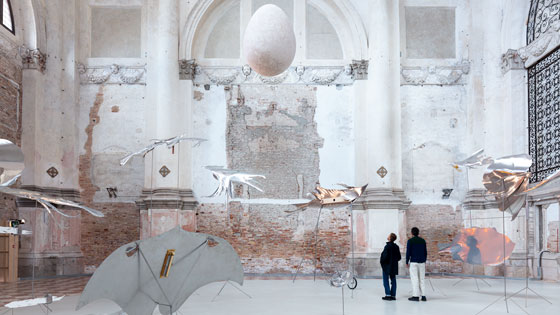 Jointly commissioned by Audemars Piguet Contemporary and the TBA21-Academy, the Lunar Ensemble for Uprising Seas has taken up residence in the heart of the San Lorenzo church in Venice until 5 November.
Artists Petrit Halilaj Álvaro Urbano have unveiled the new in Venice, Italy within the historic deconsecrated San Lorenzo Church. With the installation, the artists have created an evolving ecosystem filled with large-scale sculptures depicting imaginary creatures. The installation is on view with free admission as part of Thus waves come in pairs, Ocean Space's 2023 exhibition curated by Barbara Casavecchia, a Milan-based independent curator and critic.

With Lunar Ensemble for Uprising Seas, Berlin-based artists have created an evolving ecosystem comprising over 30 large-scale sculptures of hybrid aquatic, terrestrial, and aerial creatures, set beneath an egg-shaped moon that appears to have the same materiality as the walls of the former church. The artists have created an installation which explores cohesion as well as resistance or disharmony between different species, or between living organisms and objects.

Throughout the exhibition run, a cast of musicians and performers activate the installation at varying durations and intervals. In between performances, gull costumes, which Halilaj and Urbano will wear for two appearances, will be situated within the exhibition, welcoming visitors to the space as sculptures. They represent creatures from the Venice lagoon observing the evolving ecosystem from above. It is the gulls which coordinate the shared performance, bringing the collective action of the creatures together.
May 11, 2023