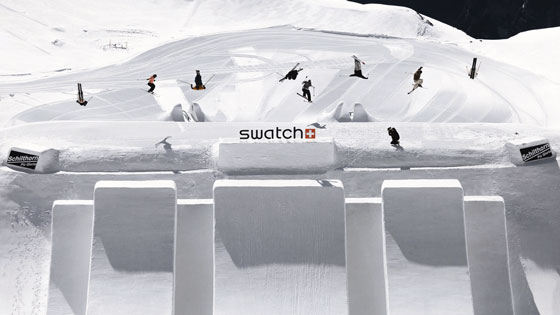 In April this year, the watchmaking company was the title sponsor of the Swatch Nines sporting event, which brought together the best skiers and snowboarders at the top of the Schilthorn (Switzerland).
The skiers and snowboarders pushed the limits of their respective sports in a non-competitive progression session.

Perched on the summit of the Bernese Alps, the athletes were surrounded by the breathtaking scenery of the Eiger, Mönch and Jungfrau. On skis or snowboard, they took to the Swatch Nines obstacle course to unleash their creativity.

This year, Swatch Nines was the subject of a joint project: athletes from the Swatch Proteam and other sportsmen and women collaborated with specific architects to design innovative snow obstacles. The result was a technically advanced and challenging snow park. The course combined organic shapes with futuristic lines and incorporated jumps that propelled the athletes in all directions and naturally resulted in a stunning show!
May 11, 2023