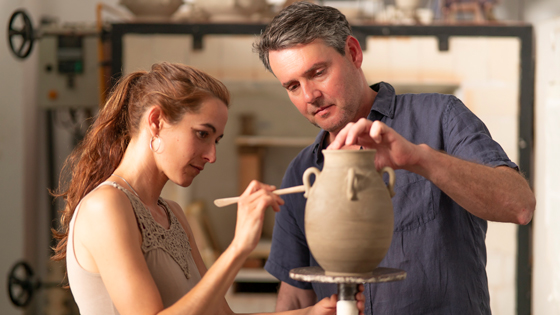 In close collaboration with the Michelangelo Foundation, Jaeger-LeCoultre is launching a new educational programme.
Based on tandems composed of master artisans and youthful talents, this programme encourages the transmission of expertise and enables the new generation to take their first steps towards professional practice.

Given that it takes on average 10 years of continuous training to master a craft, there is an undeniable need to expand training opportunities in the craft sector. Without transmission to younger generations, many artisan workshops face the danger of closing down and key skills being lost.

The partnership builds on the watchmaker's existing in-house apprenticeship programmes. For more than 30 years, the Maison has run dedicated programmes for apprentices to welcome them into the workshops. In 2021, a new Training Centre was inaugurated, dedicated to training young talents not only in watchmaking but in related occupations such as micro-engineering, quality control, sales and customer service. By extending its support to the wider crafts community, the brand's aim is to help young artisans from many different craft backgrounds to access a better life through a profession in the craft sector.

The Fellowship is open to applied arts and crafts graduates who are looking for the next step on their path to becoming a professional artisan. Fellows must show talent, passion and creativity, while participating master artisans should demonstrate a willingness to train an aspiring artisan and a need to protect their skills. The programme will favour master artisans whose craft has a strong connection to the local area, in an attempt to support cultural heritage.

For the first edition this life-changing opportunity will benefit 20 master artisan and fellow duos based in Europe, with the ambition of reaching other corners of the world in the future. The seven-month Fellowship incorporates a month-long entrepreneurial masterclass, in addition to a six-month placement for practical skills acquisition in the workshop of a master artisan.
May 04, 2023