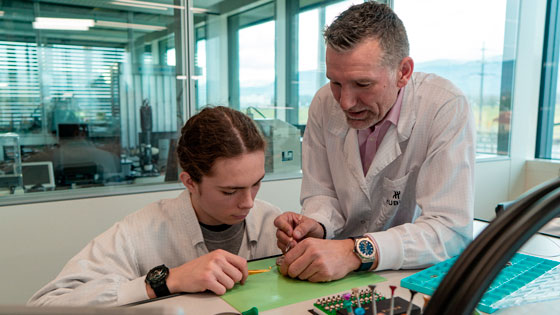 For the past seven years, the Manufacture has been training watchmakers by providing them with a dedicated workshop on the Nyon site. The young people follow a four-year dual-track curriculum under the watchful eye of their trainer, Eric Cart-Lamy, who passes on his passion.
Since 2016, Hublot has had its own workshop dedicated to training watchmakers, located at the very heart of the Manufacture. The company offers a complete four-year apprenticeship. Young apprentices spend three days in their workshop at the Nyon site and two days at the Geneva School of Watchmaking. This dual-track education allows them to acquire theoretical knowledge at school and practical knowledge in the company, under the benevolent and attentive eye of their apprenticeship master, Eric Cart-Lamy.

Eric Cart-Lamy, a watchmaker by training, joined the company in 2016 and was given the task of setting up a workshop for training watchmakers. A room, a budget and everything else had to be defined, from the purchase of equipment to the recruitment of the first trainees. Eric already had a very good grounding in teaching as he had previously trained apprentices for Jaeger-LeCoultre, the Swatch Group and Audemars Piguet.
Recruiting apprentices
In order to make young people aware of the watchmaking profession, Hublot actively participates in the Cité des métiers in Geneva (which takes place every three years) and in the Salon des métiers in Lausanne through a large booth funded by the Union des fabricants d'horlogerie de Genève, Vaud et Valais (UFGVV) encompassing all the watchmaking training companies and schools in the canton of Vaud. These are key moments in the year when young people still in school can find out about the various professions linked to the industry, as well as try their hand at the bench. Some 100,000 visitors came to Geneva last autumn and over 47,000 to Lausanne. These are excellent platforms for approaching young people and encouraging them to embark on a watchmaking training course. These fairs are really "the place to be", according to Eric Cart-Lamy, because they are propitious to initial contacts with school-age young people, providing a chance to describe the watchmaking profession to them and to make them want to take the next step, meaning a short internship in the Manufacture and potentially an apprenticeship.

Recruitment is carried out by means of two-day work placements in various companies. During their school career, youngsters thus take the time to discover selected professions. Hublot offers them the opportunity to learn about the watchmaking profession by spending a whole day in the workshop where they carry out various movement assembly and dismantling operations; half a day in the case assembly workshop and another half day in the watchmaker's workshop. These few hours enable them to gain a better knowledge of the world of timepieces, seen from the inside.
Two watchmaking apprentices per year
Each year, Hublot takes on two new watchmaking apprentices. The training centre currently has eight students, two of whom will complete their CFC this summer. The new recruits who arrive each autumn are already selected at the beginning of the year. Eric Cart-Lamy spends a lot of time on this process because it is very important that the young people form a close-knit team to help each other, regardless of their level of training.

Throughout the training programme, Eric closely monitors the academic performance of his learners. He also maintains close links with the watchmaking schools that train them. If a young person has a problem understanding his lessons, they discuss it together. The apprentices support each other in their studies. Eric is very proud to say that, to date, his eight apprentices are performing well and have grade averages of between 5 and 6 (6 being the maximum).

The current team consists of two girls and six boys. Unfortunately, there are still very few women in this profession, even though women are very efficient in the meticulous work of watchmaking. There is therefore still a lot to be done in promoting this profession. In addition to watchmaking apprentices, Hublot has since this year also been training a commercial employee and a media specialist.
School watch
During the last year of training, the trainee is asked to make his own "school" or graduation project watch. This "exercise", which requires the future watchmaker to work on all the components of the watch, was very common in the past and has unfortunately become less prevalent over time. Today, Hublot is offering its apprentices a chance to work on a contemporary school watch, based on the company's Classic Fusion model. This timepiece features the brand's logo on its dial, as well as the apprentice's name on the "writing bridge". It represents a significant source of motivation and pride for future watchmakers.
How training is evolving
Next spring, Hublot will lay the foundation stone for its future "Manufacture", which will be built on the current site in Nyon. A some 15,000sqm building adjoining the existing one will enable the brand to bring together the entire production of its watches, including the assembly of movements and cases. The watchmakers' training workshop will be located within this new entity. It will also be enlarged to accommodate four additional recruits, meaning there will be 12 in all on the watch company's "school benches".

Hublot aims to continue serving as a training company. In 2025, other centres dedicated to teaching will be established. Watch exterior finishers, micromechanical engineers and quality control specialists will be trained, again on a dual-track basis. Other training courses could also be set up.
Eric Cart-Lamy
Trained as a micromechanical engineer in France, Eric Cart-Lamy worked at Jaeger-LeCoultre in the machining workshop for the Reverso model cases. The company soon entrusted him with the task of training the microtechnical teams. This was his first step as a teacher, a profession he has continued to exercise ever since. He continued on this path within the Swatch Group, which had a Breguet & Blancpain training centre in the Vallée de Joux. He stayed there for about 15 years. At that time, he returned to school and completed a full watchmaking training course. He spent another year at Audemars Piguet, again in the training field, before joining Hublot in 2016.

Passionate about watchmaking, Eric has made it his mission to pass on his knowledge to the young watchmakers of the Manufacture so that they begin their careers with a rich background, as well as with wonderful memories of this intense and beautiful period in their lives.
March 09, 2023