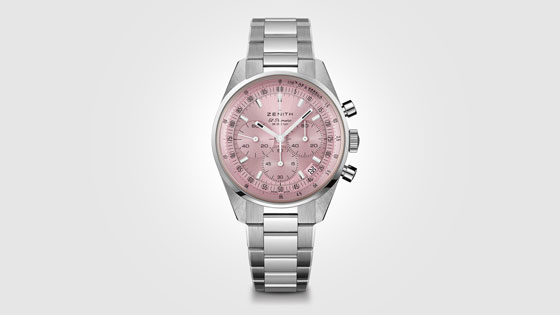 Zenith has announced its support of Susan G. Komen, the world's leading nonprofit breast cancer organization.
Founded by Nancy G. Brinker, who promised her sister, Susan G. Komen, that she would end the disease that claimed Susan's life, Komen is committed to supporting those affected by breast cancer today, while tirelessly searching for tomorrow's cures. Considered the world's leading non-profit breast cancer organisation, the foundation advocates for patients, drives research breakthroughs, improves access to high-quality care, offers direct patient support and empowers people with trustworthy information. The watchmaker is committed to supporting the foundation over the coming years.

As part of this commitment, Zenith has unveiled the Chronomaster Original Pink watch, a special edition available only during the annual International Breast Cancer Awareness Month campaign from 1 to 31 October. Crafted in a unisex 38mm steel case, the timepiece stands out with its striking metallic pink dial, honouring the colour globally associated with breast cancer awareness. 20% of the proceeds from the sale of the Chronomaster Original Pink will directly be donated to the Susan G. Komen foundation, supporting its efforts to make a positive impact on their community by enabling patients everywhere to live better, longer lives.
October 06, 2022