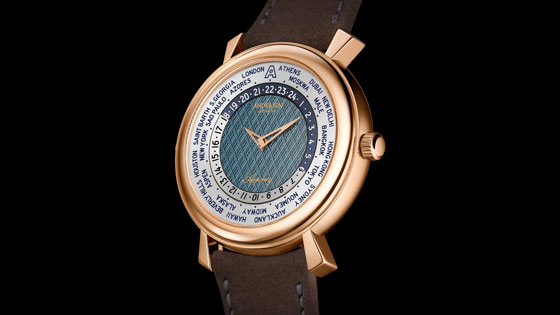 Renowned for its dedication to watchmaking expertise, the independent atelier Andersen Genève has collaborated with the British company Asprey to create a wristwatch celebrating the joys of travel.
The result of this partnership – the "Hours of the World" model issued in a 24-piece limited edition – is a splendid evocation of the beauty and style of a bygone era. Its elegant lines and meticulous craftsmanship indeed recall the timepieces of the 1940s to 1960s, the golden age of the art of watchmaking.

This world time timepiece, measuring just 39mm in diameter, is housed in a curved three-part 5N red gold case with angular soldered lugs. The 21K blue gold dial is adorned with striking guilloché work inspired by a historical guilloché pattern created by Asprey. Blue gold is obtained by combining the precious metal with iron components, to be heated in a process that creates this resplendent hue.

Renowned for its elegance, Asprey continues to build on over two centuries of experience and craftsmanship. Its clients have included royalty, heads of state and international celebrities from the world of entertainment.
October 06, 2022