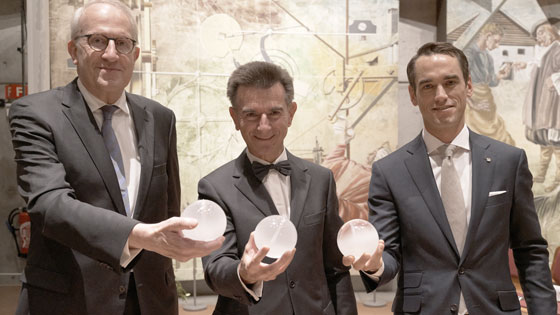 Nico de Rooij, Laurent Barotte and Edouard Meylan
The unique Gaïa Prize honours the very best, those contributing to the reputation of watchmaking, its history, its technology or its industry.
An institution of global renown, the Musée international d'horlogerie awards this prize in recognition of the spiritual heirs of watchmaking culture embodied in the museum's collections and in the city itself.

On 22 September, Régis Huguenin-Dumittan, curator of the MIH and president of the jury of the Gaïa Prize, presented the awards to the winners of this 2022 edition. The jury, composed of 11 personalities active in the field of watchmaking, designated:


Laurent Barotte, winner in the Craftsmanship and creation category for his expertise in the field of clock restoration, for his contagious passion and for the ambition shown in the projects he has led with his students in restoring monumental clocks in public spaces.
Nico de Rooij, winner in the History and research category for his outstanding career dedicated to research in micro-technology, for the pioneering role he has played in the processes of producing miniaturised silicon-based sensors and actuators, and for his contribution in sharing these technologies with the watchmaking industry.
Edouard Meylan, winner in the Spirit of Enterprise category, for his bold career and the entrepreneurial approach he has taken with the brand H. Moser & Cie. while defending fine mechanical watchmaking and exercising complete independence in component and product development and communication.

Craftsmanship and creation: Laurent Barotte
Born in Giromagny (territoire de Belfort) in 1961, Laurent Barotte obtained his professional certificate in watchmaking (CAP) in Besançon in 1980; he then pursued his studies at the watchmaking school in Le Locle in the micro-mechanics and clockmaking department (Technicum, 1982-1983); from 1983 to 1984, he worked at the Watch Museum of Le Locle, where he specialised in restoring antique clocks. For three years, Laurent Barotte worked in Bern, at Scherer, before putting his skills into practice with Dominique Mouret in Sainte-Croix, from 1987 to 1990, the year in which he set up his own clock restoration workshop near Fribourg.
In 1995, he began to teach part-time at the Technical College in Porrentruy, sharing his expertise in the theory and practice of watchmaking. The following year, he moved to Porrentruy with his family.

Alongside his teaching, he restored many 17th to 19th century clocks owned by private individuals or museums. In 2003, he became a full-time teacher specialising in clockmaking.
Together with his students, in 2004, he completed work on the clock for the centenary of the Vocational Centre in Porrentruy (the current Technical Division of the Jura Centre for Education and Training [CEJEF]), which was started four years earlier. This clock was the fruit of 1,500 hours' labour, and is a copy of the clock created in 1754 by Jean-Pierre Droz of La Ferrière, official clockmaker to the Prince-Bishopric of Basel.
He has employed his expert skills to complete some prestigious restoration work, including dedicating 4,000 hours from 2004-2006 to restoring an 18th century clock featuring a moving sphere from the Kunstkamera museum in St Petersburg, in collaboration with the Lycée Edgar Faure watchmaking school in Morteau, France.
From 2010-2011, he also restored the clock (dated 1713) equipped with a monumental movement in the tower of the Porte Sainte-Pierre archway in Saint-Ursanne; in 2016, in another collaboration with his students, he restored the clock (dated 1761) in the City Hall of Porrentruy. This restoration was the fruit of over 1,000 hours' work invested by Laurent Barotte and his students in restoring monumental clocks within public spaces.
From 2007-2015, in collaboration with his successive students, Laurent Barotte was involved in a magnificent collective work: creating, producing and installing the momumental "Quebec" clock in Montreal, as a gift from the Canton of Jura to the Canadian city on the banks of the Saint-Laurent river.
Laurent Barotte is a lively extrovert, yet also a humble and authentic man who pursues perfection in his passions for watchmaking and teaching. He is one of the leading experts in antique clocks and one of their staunchest advocates in current training courses which tend to prioritise individual timepieces over large-scale clocks.
In 2015, Laurent Barotte won the "Artisan d'Art" award as part of the European Prize for Applied Arts (JEMA Jura). Everyone holds Laurent Barotte in very high regard for his approach to teaching, his desire to pass on his knowledge, and his encouraging attitude towards his watchmaking students.
History and research: Nico de Rooij
Nico de Rooij received his M.Sc. degree in physical chemistry from the State University of Utrecht in 1974 and a Ph.D. degree from Twente University of Technology in the Netherlands, in 1978. From 1978 to 1982, he worked at the Research and Development Department of Cordis Europa N.V., in the Netherlands.
He was appointed Professor at the University of Neuchatel in 1982, and Head of the Sensors, Actuators and Microsystems Laboratory (SAMLAB). Alongside his work in Neuchâtel, Nico de Rooij lectures occasionally at the Swiss Federal Institute of Technology, Zurich (ETFZ) and, since 1989, has been a part-time professor at the Swiss Federal Institute of Technology, Lausanne (EPFL).
He has been a pioneer in his research into the processes involved in producing, designing and modelling miniaturised sensors and actuators made from silicon, a lightweight, antimagnetic material. These microsystems have been developed for use in many fields such as medicine, ecology, space research or watchmaking. In particular, his laboratory has been involved since 1996 in developing the Deep Reactive Ion Etching process, initially designed to produce opto-micromechanical components.
A bridge-builder between research and industry, Nico de Rooij initiated the transfer of technologies which resulted in the production of many innovative products. The components and microsystems created in his laboratory have given rise to several start-ups in the Neuchâtel region (Seyonic SA, Sercalo SA, 1Drop Diagnostics).
From 1990 to 1996 and from 2002 to 2012, Nico de Rooij was director of the Institute of Microtechnology (IMT), first at the University of Neuchâtel and, from 2009, as part of the Swiss Federal Institute of Technology, Lausanne (EPFL). During this time, he helped to grow the Neuchâtel centre of the IMT significantly, increasing the number of Chairs from four to ten; he also oversaw the construction of Microcity: a new building dedicated to microtechnology in the city of Neuchâtel. In 2008, he was appointed Vice-President of the Swiss Centre for Electronics and Microtechnology (CSEM SA) in Neuchâtel, heading the new Microsystems Technology division.
In the early 2000s, the deep etching expertise developed in his laboratory enabled the CSEM to produce the silicon wheels required to create an escapement with two pallet wheels, designed by Ludwig Oechslin and sold by the Manufacture Ulysse Nardin in its Freak model, the first timepiece equipped with silicon components. After this, Nico de Rooij continued to build momentum in research and support the wider watchmaking industry in the use of monocrystalline silicon, as its remarkable elasticity could boost the performance of watch movements while retaining the traditional operating principles. Enhancements in the Deep Reactive Ion Etching process were based on many projects completed in conjunction with the CSEM and various watch manufacturers, including as part of community watchmaking research (ASRH - the Swiss Association for Horological Research) and with the Haute Ecole Arc. This paved the way for an innovative revival of mechanical watchmaking.

Close connections were built in particular with the Manufacture Patek Philippe and many innovations relating to balance-springs, pallet and escape-wheels using silicon resulted from this collaboration.
His laboratory's expertise in micro-fabrication and mathematical simulation were also decisive in making it possible to produce silicon parts including a blade measuring one sixth of a hair's breadth and used, for example, to drive a constant force escapement from the Manufacture Girard-Perregaux, invented by Nicolas Dehon.
In 2005, Nico de Rooij launched the large-scale collaborative project known as CIMENT (Interuniversity Centre for Micro and Nano Technologies) between the University of Neuchâtel, the Neuchâtel Observatory and the EPFL. The development of miniature atomic clocks began as part of this project.
In 2011, under the direction of Nico de Rooij, the EPFL opened the Patek Philippe Chair in the Neuchâtel IMT; this professorship was dedicated to the application of new micro and nanotechnologies in watchmaking, opening up new perspectives on the Neuchâtel tradition of fundamental research in watchmaking. Finally, in 2013, Nico de Rooij helped to create Patek Philippe Technologies SA. Comprising a team from the Microsystems Technology division of the CSEM led by Sylvain Jeanneret, the company was set up to produce silicon watch components on an industrial scale.
In 2016, after his retirement, Nico de Rooij became Professor Emeritus at the EPFL. He has won many prizes and served as a member of several international executive boards; he has also written over 400 articles published in his specialised fields. Furthermore, he has directed and co-directed over 70 doctoral theses during his academic career, mostly financed thanks to an adept and respected association with the worlds of academia and industry. Nico de Rooij is currently Chair of the Board of Directors of the COSC (The Official Swiss Chronometer Testing Institute)
Spirit of Enterprise: Edouard Meylan
Born in 1976 into a watchmaking family in Vallée de Joux, Edouard Meylan's interest in this field was sparked from a very early age; even as a teenager, he would help out in watch manufacturing facilities. After obtaining a Engineering Master's Degree in microtechnology from the Swiss Federal Institute of Technology in Lausanne (EPFL), he became a consultant at the audit and consultancy firm PricewaterhouseCoopers (PwC) in Zurich. In the early 2000s, Edouard Meylan moved into watchmaking, in Asia, working first in distribution, then for engineering consultancy firm Desco, heading their offices in Malaysia, Singapore and Thailand. After returning to his studies and completing the Wharton MBA program (in Philadelphia, USA), he cofounded Celsius X VI II, a mobile phone company based on watch technology.
In 2005, the company H. Moser & Cie reappeared on the international watchmaking scene, led by Dr Jürgen Lange. In 2013, the Meylan family took the reins of the company. Surrounded by members of his family, the new CEO Edouard Meylan was a breath of fresh air and positioned the brand as a bold, innovative - and sometime provocative - player on the watchmaking scene and in communications in which he personally played an active part.
Based in Neuhausen am Rheinfall, the company currently employs around sixty staff, has developed 15 in-house calibres to date and produces over 1500 watches a year. With the help of its sister company, Precision Engineering AG (PEAG), H. Moser & Cie develops components such as regulating organs and balance-springs, which it uses for its own production and which it also supplies to partner companies. An intermediary company of the Moser Watch Holding group, Precision Engineering specialises in watch escapement components, from the design phase to the production of a final high-quality product ready to be integrated into the movement which it is designed to regulate. Thanks to the entrepreneurial spirit instilled in PEAG during this reorganisation and the subsequent investments in production facilities, the company now works with the biggest names in the Swiss watch industry.
Under the direction of Edouard Meylan, the H. Moser & Cie brand has returned to profitability and has successfully carved a niche for itself in the watchmaking world, particularly by creating conversation pieces which echo current debates. Occupying a unique position which brings together traditional watchmaking and original designs, brand communication and product development, Edouard Meylan is renowned for his bold standpoints. Defying conventional norms, H. Moser & Cie defends fine mechanical watchmaking, with complete independence.
Horizon Gaïa grant: Julien Gressot
Alongside the three categories used to honour leading figures in the watchmaking world, Horizon Gaïa, an incentive grant made possible thanks to the generosity of the Watch Academy Foundation, is being awarded to encourage new talent in the fields recognised by the Prix Gaïa: Craftsmanship and creation, History and research, and Entrepreneurship. The grant will finance all or part of an individual project.
The 2022 Horizon Gaïa scholarship has been awarded to Julien Gressot, a PhD student completing his doctoral thesis in the History of Technology at the University of Neuchâtel.
His thesis project aims to give an overview of the scientific and technological heritage of the Neuchâtel Observatory and is entitled "Inventorying, preserving and sharing an exceptional heritage of science and technology. Retracing the history of the Neuchâtel Observatory through the history of its scientific instruments". The aim is to create an accurate inventory of the scientific instruments and their sources, to encourage the preservation and study of this corpus of high heritage value, to give it overall coherence, to guide an acquisition policy and to raise awareness of the life of an institution that has made its mark on the history of the region.
September 29, 2022