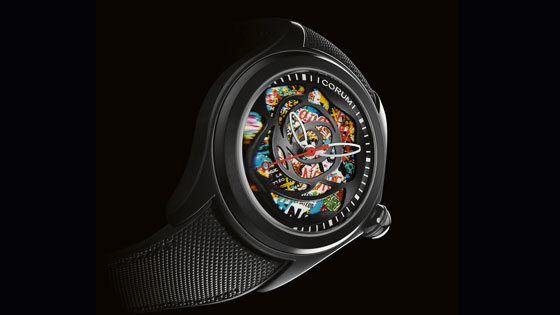 Staying true to its innovative side, Corum teams with French street artist Aiiroh to bring a statement of "art on the wrist" to the forefront.
Known for his love of Pop Art and its reinterpretation, Aiiroh, a street artist for more than 20 years, has had his work exhibited in more than 50 galleries worldwide. He has even dropped some of his own iconic pieces as NFTs. Collected by hip hop icons and international celebrities, Aiiroh's artwork commands top dollar alongside other French artists. His main recent focus has been re-interpreting iconic pop-art figures using posters found in the streets of top French cities.

The new larger-than-life 47mm Bubble X Aiiroh watch highlights its own message: one of daring color and bold style. Crafted in stainless steel with black PVD coating, the watch is inspired by Aiiroh's famous "Black Série Rose" artwork that uses street posters and headlines in a decoupage-like collage to form the petals of the colorful rose. He then superimposes another stylised black rose spiral motif on top of that for added allure.

Overlaid onto the first layer of the dial is a second black dial swirl made of aluminium that is a stylised rose. The black against the colour not only evokes a sense of the rose opening, but also brings amazing contrast and appeal. Add to that the half-globe domed sapphire crystal that gives its own somewhat distorted view of the dial, and the result is magnificent.

As intriguing as the Corum Bubble X Aiiroh watch is, it brings even more surprise with it in the form of packaging and wall art. The watch will be sold with a special artwork created by Aiiroh and Japanese modern artist Namisen and brought to "life" as a final piece in resin by French visual artist Soyz Bank. Essentially the sculptured wall art is an original design inspired by Corum's watch certificate, complete with the key logo that is immediately recognisable. It is created as a flat painting, semi-folded and finished in resin.
September 22, 2022