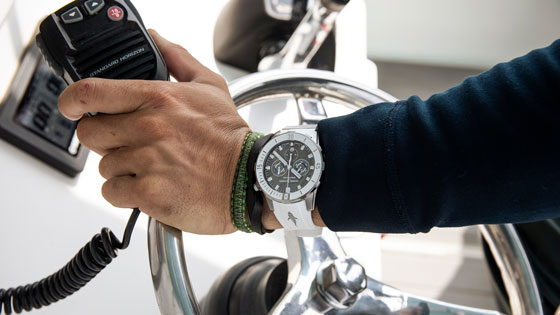 In honour of Shark Week and celebrating the launch of its new Diver Chronograph Great White, the Swiss watchmaking Maison takes its devotion to shark conservation around the world to the next level.
Ulysse Nardin proudly announces its increasing support of a new fleet of shark conservation initiatives and partners: participation in the "1% for the Planet" movement, support for the Shark Trust association and welcoming a brand-new ambassador.

"1% for the Planet" is a global organisation that exists to ensure that the planet and future generations thrive. It inspire businesses and individuals to support environmental non-profits through membership and everyday actions. The entity makes environmental giving easy and effective through partnership advising, impact storytelling and third-party certification.

The Shark Trust is the leading UK-based shark conservation charity working. They work globally to safeguard the future of sharks and rays through positive change. The primary challenge in shark conservation is overfishing – which implies addressing unsustainable and unmanaged fishieries, along with the supply chains that drive the global consumption of shark products. A recent review documented that 1/3 of the 1,200 shark and ray species are now classified as threatened on the IUCN Red List – the primary cause being the effects of overfishing. The global abundance of oceanic sharks and rays (those living on the high seas) has declined 71% over the last 50 years, primarily due to overfishing.

New friend of the brand, Mike Coots, a Hawaii native, became an amputee when he lost his right leg in a tiger shark attack at 18 years old while bodyboarding. Mike soon realised the importance of preservation and has since become an advocate for saving sharks in an effort to maintain balance in the ecosystem.

With their status as the apex predators of the sea and as a largely misunderstood species of marine life, sharks are the avatars and cherished icons of Ulysse Nardin. These majestic top predators are essential to the natural order of marine ecosystems. Currently their most severe menace is from overfishing, and many species are threatened with extinction. Sharks have been an irreplaceable resource for coastal communities in the developing world for centuries. Today, this unique balance is in danger of being lost forever.
September 15, 2022