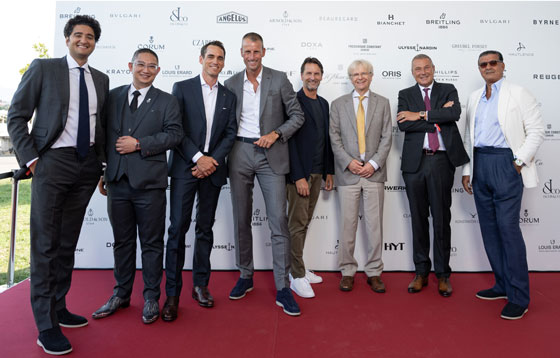 The third edition of the Geneva Watch Days, held from 29 August to 1 September 2022, exceeded all expectations of the organizers and all participating companies.
Inaugurated by the State Counsellor for the Economy of the State of Geneva, Fabienne Fischer, the event brought together 33 brands and more than 1,200 watchmaking professionals - retailers, agents, distributors, and journalists - from all geographic zones, Europe, the USA, the Middle East, Asia and Latin America. A strong progression compared to the year 2021 which was still marked by the pandemic. Creating a real momentum for the watch industry and at the same time arousing a growing and significant interest for the general public and the local community, this edition was a great success contributing to underlining the City of Geneva as epicenter of watchmaking.

Open, engaging and unifying, the Geneva Watch Days remained true to its original concept and once again found a new and refreshing echo in the international community by pushing back the horizons of the usual trade shows with its innovative format and unique state of mind. Thus, Geneva Watch Days has not only established itself as an important momentum for the watch industry, but is more than ever in tune with our times - a global and decentralized event, self-managed and open to the public.

While the 33 brands organised their showrooms according to their needs, in exclusive suites in the hotels, in boutiques or in their workshops or manufactures, the 1,000m2 Geneva Watch Days Pavilion, set up on the Mont-Blanc rotunda in front of the Water jet, was again the rallying point of the event.

Open to the public, the Pavilion welcomed more than 2,500 visitors, but also collectors, watch enthusiasts and final clients in four days. More than 400 guests attended the opening ceremony and party with magnificent fireworks display on the water to kick off the event. Each day, in the pavilion presenting 187 new timepieces in no less than 52 display cases, guided or free visits, conferences, announcements, talks, but also more than 60 taxi-bike tours were offered. All in all, a record number of events, activities and visitors compared to previous years.

The event, both physical and digital, also allowed people who were unable to travel to Geneva to explore the show and discover the latest innovations in real time. Geneva Watch Days was once again global in scope.
September 15, 2022