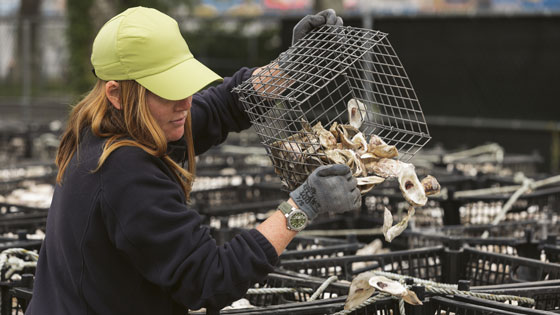 Certified climate neutral, the watch Maison continues its mission and is collaborating with the Billion Oyster Project, a non-profit organisation that is restoring the oyster population in New York Harbor, once one of the world's most polluted waterways.
To support this pioneering project, it is launching the New York Harbor Limited Edition, in a 2,000-piece limited edition and designed on the basis of the Aquis diver's watch. The green mother-of-pearl dial of this piece is inspired by the colour of the water in the famous harbour and the shell of the marine mollusc.

Several centuries ago, New York Harbour was home to 220,000 acres of oyster reefs. An adult oyster can filter as much as 50 gallons of water a day, while oyster colonies create ecosystems for other marine life, and form natural storm barriers. Oyster reefs are to the ocean what trees are to the forest.

As New York City grew in stature as a global hub for trade and shipping, its population developed a taste for oysters. At the same time, the harbour became a dumping ground for sewage, industrial waste and other pollutants. By the early 20th century, the harbour's water was filthy and diseased. Marine life all but vanished. It was not until 1972 that New York's Clean Water Act was passed, prohibiting the dumping of waste and raw sewage into the harbour. In time, the water quality began to improve so that come the millennium, marine life started to return. In 2010, whales were spotted in the harbour.

Billion Oyster Project began in 2014. Founded by educators Murray Fisher and Pete Malinowski, it recognised that without educating current and future generations, conservation efforts would be futile. In the years since, the project has brought 11,000 volunteers, 8,000 students, 100 New York City schools and more than 50 restaurant partners together to place oysters, build reefs, and keep the story going.

And together, they are bringing Change for the Better. Billion Oyster Project has introduced 75 million juvenile oysters to 18 restoration sites, and the oyster population is now self-sustaining.

Water-resistant to 300 metres, the New York Harbor Limited Edition features a green mother-of-pearl dial and comes with an interchangeable rubber strap and stainless steel bracelet, along with a dedicated tool for switching between them. It is powered by the Oris 733 self-winding movement and has a 38-hour power reserve.
August 11, 2022