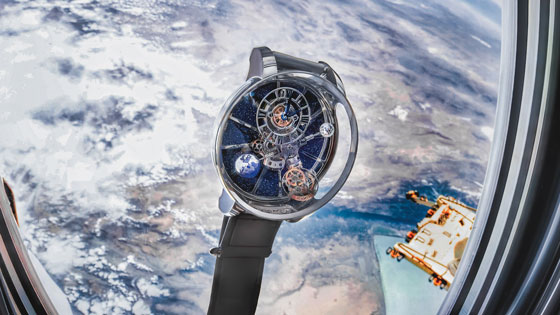 Jacob & Co, Bucherer Blue, and Sotheby's, are reaching for the stars. The two watch companies celebrated for their innovative and dazzling designs have joined forces with Sotheby's in the spirit of exploration to send a special timepiece into the unmapped vastness of space before being put up for a charitable auction this summer.
Named the Jacob & Co Astronomia Tourbillon Bucherer Blue, the unique watch, a marvel of Swiss craftsmanship and the decorative arts, was the first triple-axis tourbillon to leave the Earth's atmosphere.

In last April, from the Launch Complex 39A at the Kennedy Space Center in Florida, Axiom Space launched a four-person team to and from the International Space Station (ISS). The flight named AX-1, returned off the Florida coast. A crew member on this historical mission was Eytan Stibbe, an impact investor and philanthropist, leading the Israeli-designed Rakia mission to space. Strapped to his wrist was the Jacob & Co Astronomia Tourbillon Bucherer Blue watch.

The Rakia mission spent 17 days 1 hour and 37 minutes in space, as the space crew orbited the Earth 273 times at an altitude of 250 miles at nearly 17,500 mph, traveling over 7 million miles in total.

Upon its return from space, the Jacob & Co Astronomia Bucherer Blue embarked on a public exhibition tour in New York City, first stopping at the Bucherer 1888 TimeMachine from 11 to 17 July, before moving on to an exhibition at Sotheby's New York galleries from 21 to 25 July and then heading to the auction block in a single-lot dedicated live auction on 26 July.

The bidding will start at USD1 and all proceeds will be donated to benefit charities, with further details to be announced later. While the watch travelled to space and back on a single mission, this special sale will ensure that its impact reverberates for generations.
July 07, 2022