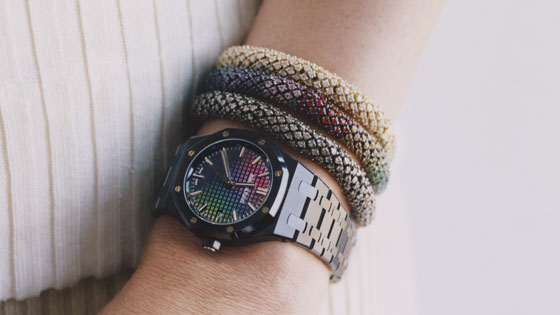 The Le Brassus-based house presented a new limited edition 34mm Royal Oak Selfwinding in black ceramic. This timepiece is the fruit of the latest collaboration between the Manufacture and Carolina Bucci.
In celebration of the Royal Oak's fiftieth anniversary, the Italian jewellery designer has created a dial endowed with a unique multi-coloured mirror effect paying tribute to the iconic Tapisserie design. The result is as unexpected as it is elegant. This limited edition is designed for both men and women and is available exclusively in Audemars Piguet boutiques and AP Houses.

For her third collaboration with Audemars Piguet, Carolina Bucci has left behind her hammering technique, known as Frosted Gold, to enrich an all-black ceramic piece with a surprising dial. Always looking to meet new challenges, she decided to focus on contrasts. At first glance, the dial appears black, but on closer inspection it reveals a multi-coloured spectrum that brings the Tapisserie effect to life in the ever-changing light.

To achieve this result, a sapphire plate adorned with little squares achieved through micro-structuring is added on top of the brass dial plate to create rich rainbow-coloured light effects. A golden metallisation, specially developed for the occasion, is also applied onto the back of the sapphire plate to create a mirror effect and shines light onto the dial. The pattern of iridescent colours varies from dial to dial, making each design unique.

This limited edition comes in a presentation box that has also been designed by Carolina Bucci. For this special occasion, she wanted to use the Tapisserie pattern in relief, going into the finest details, to pay homage to the 1972 classic.
June 30, 2022