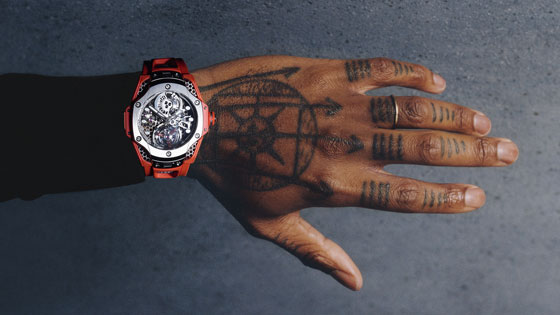 A Hublot ambassador since 2020, creative director Samuel Ross brings his unique graphic language to watchmaking for the first time with the limited-edition Big Bang Tourbillon Samuel Ross.
Mirroring Hublot's trajectory, renaissance man Ross has experienced an equally breakneck rise to prominence. Describing himself as a creative director, the 30-year-old multi-disciplinary artist, filmmaker, and fashion designer graduated from Leicester De Montfort University in 2012 with a first-class honours' degree in graphic design and illustration. Since then, he has collaborated with many brands and creative outlets – from Oakley and Nike to Dr. Martens and Mackintosh – launching his men's Luxury Sportswear label A-Cold-Wall* in late 2015, and his design studio SR_A in 2019.

The distinctive, stylised hexagon of the Big Bang case is reflected in the titanium honeycomb mesh used on the sapphire dial, case, case back and strap. A basic building block of nature (seen in environments from beehives and snake's scales to pineapple skin and snowflakes) the robust and efficient shape, that can be repeated without gaps or overlapping, has been appropriated as a standard for modern-day construction and design thanks to the seamless fit of each unit.

Here the hexagon is a visual symbol of the functionality of the watch – a key strand running through all of Ross's design. Although it may be a wearable sculpture, Ross never loses sight of the need for it to be durable and ergonomic, the lightweight, openworked titanium structure and malleable rubber strap ensuring its comfort on the wrist. A proponent of colour theory, Ross has chosen orange – representing energy and optimism – for the strap and accents on the crown and tourbillon bridge and lateral bumpers that protect the case, a glowing contrast to the sober grey of the satin-finished case and bezel.

Fostering a desire to work with the most talented practitioners in alternate fields, the brand introduced its "Hublot Loves Art" initiative more than a decade ago. Hublot has since collaborated with some of the most talented artists and designers of a generation.
June 23, 2022