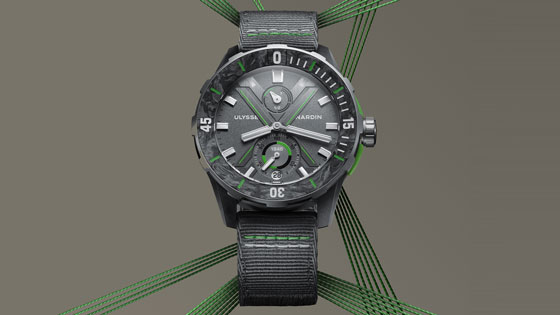 Ulysse Nardin and The Ocean Race are seeing their shared commitment realised with The Ocean Race Diver. This timepiece will be the official timekeeper for the open-sea sailing race scheduled to start from Alicante, Spain, on 15 January 2023.
With this new sophisticated and environmentally friendly watchmaking creation, the two partners are making a pledge to protect the Ocean and start the countdown for positive results by 2030.

The watchmaker has been making marine chronometers of incomparable reliability for explorers since 1846. Today's navigators are inevitably confronted with plastic pollution, with 5,000 billion pieces floating at sea. Fishing nets (mainly made of polyamide) are one of the main sources of this Ocean plastic pollution: up to 640,000 metric tons are lost or abandoned each year, joining the nine million metric tons of plastic discharged into the sea.

Then in November 2020, the brand innovated with the Diver Net, an experimental concept watch, each element of which was designed for durability, to be as environmentally friendly as possible. In June 2022, the Diver The Ocean Race made from recycled fishing nets will become the first sustainable luxury watch to be put on the market and offered in a limited edition of 200 pieces. It confirms the global trend of the luxury sector towards upcycling, already adopted by the high fashion industry. The goal is to raise awareness by creating "new from old" and regenerating materials, especially plastic. Ulysse Nardin is conclusively making the change towards the circular economy with this movement to regenerate nets. Thanks to the work of the French start-up Fil&Fab, the brand thus puts the spotlight on a "less noble" material enhanced by a "100% Manufacture" watchmaker's approach, making the object as desirable as if it were designed in a more conventional material than polyamide.

Ulysse Nardin's designers meticulously decorated the watch, water-resistant to 300 metres, with touches of bright green, a reflection of Nature. A combination of white, grey and black completes the colour palette of this timepiece, which beats to the rhythm of the Manufacture's iconic movement, the UN-118. The components of this movement are 95% sourced within a 30km radius of the Manufacture, half of them coming from recycling channels (recycled steel and brass in particular).
June 23, 2022