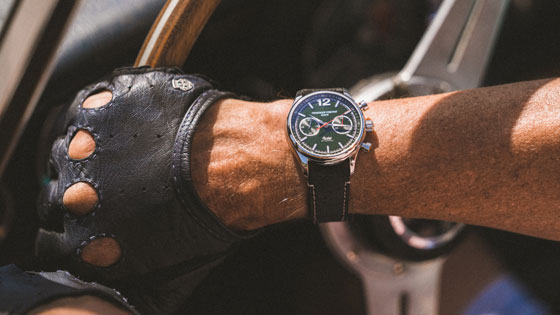 The watchmaking house is celebrating the 70th anniversary of its long-standing automotive partner, Austin-Healey, and is renewing its intangible loyalty with two exclusive limited editions.
Three letters, three figures: NOJ393. This is the number plate of the famous Austin-Healey 100S, bought in 1969 by a fan of the legendary car. It was the outcome of the collaboration between the Austin Motor Company and that of the driver, Donald Healey, also a creator and designer. One of the last original examples of this responsive and distinguished racing car that was unique in its kind was this famous NOJ393 purchased at the time for £155. It fetched 1 million euros when it was sold in December 2011.

This out-of-the-ordinary enthusiasm demonstrates the power of attraction the vintage Austin-Healey has on collectors of beautiful machines. Its perfectly controlled lines, simultaneously rounded and tight, have made it a model of styling. Its legendary "British racing green" livery has become a classic.

2022 marks the 70th anniversary of the creation of this legend, of which the Geneva-based house has been the key partner since 2007. An opportunity to offer vintage car fans a collector's piece to wear on the skin: the Vintage Rally Healey Chronograph Automatic.

This timepiece is offered in two versions sharing a 42mm steel case as well as a common look. Except for one small detail, which makes all the difference: only 10 timepieces will be produced of the first, and instead of the the "12" index at midday, Frederique Constant has placed the "70" which celebrates the creation of the Austin-Healey firm. The second, limited to 700 timepieces, prefers the watchmaking tradition in which the figure 12 is in its normal place and the "70th Anniversary" wording is at 6 o'clock.
June 23, 2022