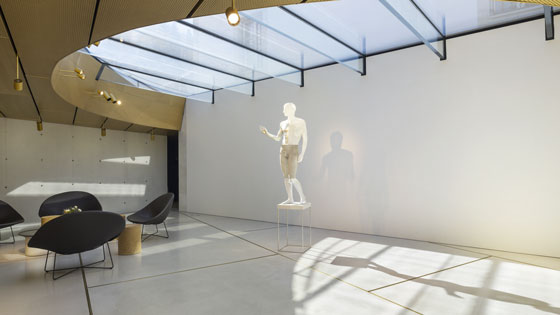 The Musée Atelier Audemars Piguet presented its 2022 programme coinciding with the celebration of the Royal Oak's 50th anniversary.
To celebrate the Royal Oak's jubilee, the Musée Atelier presents a dedicated Masterclass, entitled "Royal Oak's Origins," which blends theory and practice.
Limited to four participants, this three-hour experience taking place on Thursday afternoons sends visitors on an exclusive journey at the heart of the Royal Oak. After diving into the history of this iconoclast turned icon through ancient timepieces and archival documents, participants sit at the workbench to assemble both a replica of the watch's original case and part of one of its current mechanisms, Calibre 4302. Lastly, they try their hand at the timepiece's trademark finishing techniques. This Masterclass is available to the public until April 2023.

To further the celebration, the Musée Atelier has invited Audemars Piguet Contemporary – the Manufacture's art programme that commissions and supports contemporary artists – to devise a temporary exhibition reflecting on the transformation of materials in current artistic practices. Part of the Musée Atelier's general guided tour, this exhibition is on view untill 15 December 2022. Transformation-matière takes as its starting point the creation of the Royal Oak in 1972, when for the first time in Haute Horlogerie, steel was ennobled to the same status as gold. This transformation was made possible thanks to the exceptional hand finishing of the steel case and bracelet. From this point of inspiration, the artworks presented in the exhibition all exemplify how working with a new materiality can lead artists to philosophical and emotional discoveries – not dissimilar to the process behind the creation of the Royal Oak 50 years ago.

The Musée Atelier also announced its first interactive visit for children, aged 6 to 12, which takes place on Wednesday afternoons. The guided visit's content is adapted to the younger public by blending teaching and entertainment for a fun experience.

This dedicated tour gives children a unique perspective of the Vallée de Joux and its watchmaking history by offering a different take on the Musée Atelier's display of some 300 timepieces spanning over two centuries of remarkable horological craftsmanship. The young audience is also introduced to the museum's unique architecture. The Musée Atelier unifies the original workshop, established by Audemars Piguet's founders in 1875, with a highly contemporary all-glass structure made up of two spirals.

Lastly, the Musée Atelier introduced new guided visit hours on Saturday mornings to favour family's cultural outings and better fit with visitors' work-life balance.
May 12, 2022