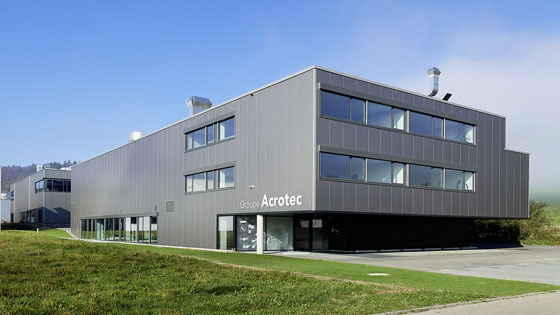 After 15 years in development, the Acrotec Group is today unveiling its new headquarters in Develier, establishing Acrotec's local roots in the Jura and its desire of uniting companies to benefit its customers.
Founded in 2006 in Develier by François Billig, when Vardeco and KIF Parechoc were brought together under the same corporate entity, the Acrotec Group has continued to develop through acquisitions and organic growth.

Today, the Acrotec Group consists of 24 companies, located mainly in Switzerland but also in France and the United States, with an annual turnover of over CHF300 million. These companies employ more than 1,300 people skilled in high-precision micromechanics. They are spread across some 20 sites and operate a total inventory of 1,400 machines to meet the orders of more than 1,200 customers based in 40 different countries worldwide.

There are three divisions that cover the group's activities: watchmaking and jewellery, which remain dominant; Medtech, which is growing rapidly; and high-tech precision. The medium-term objective is to achieve a balance between these three divisions within the group. Since the beginning of 2020, certain operations have benefited from the R&D division to create innovative synergies between the group's companies, and STS's alternative to rhodium flare and H2i's Accuracy Motion are perfect examples of the group's innovative approach. They have been recognised by the profession and have quickly found their markets.

Acrotec likes to present itself as a federation of companies rather than a group that accumulates acquisitions. Each company that joins the Group keeps its DNA, its local roots, its autonomy and its governance. The company's CEO sits on the Group's executive committee. The desire to work together must be mutual because Acrotec's primary added value is precisely its ability to transform the individual expertise of each company into a collective force with a long-standing attachment to Swiss-made values. The Group offers complementary services between member companies to build chains of expertise that help the customers to limit their number of subcontracting contacts.

On 2 December, the Acrotec Group opened its new headquarters in Develier, as well as Vardeco's new industrial premises. This CHF 6.3 million investment benefits the local economy and perfectly illustrates the Group's growth dynamic. The construction of these brand-new headquarters coincides with the arrival of a new investor, the Carlyle Group, at the beginning of 2021. This investment will enable Acrotec to strengthen its industrial, technological and geographical diversification efforts to serve its clientele better, particularly its longstanding watchmaking customers.
January 13, 2022