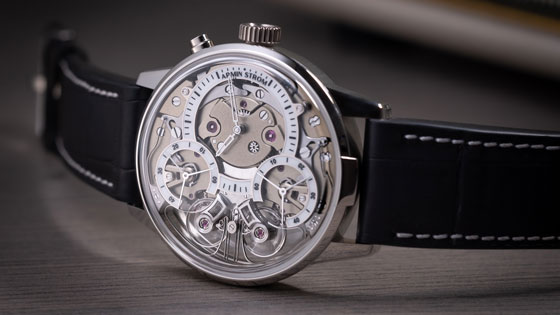 This extraordinary piece from the independent Swiss Manufacture celebrates the fifth anniversary of the brand's resonance technology.
Zeitgeist shines the spotlight on Armin Strom's patented Resonance Clutch Spring and its ability to create the most consistent timekeeping. This component is a testimony to the brand's ideals and its focus on cutting-edge research and evolution in watchmaking. Zeitgeist marks the next chapter for resonance watches.
Armin Strom's ingenious technology is dramatically showcased in the Zeitgeist by exposing the entire mechanism. This model elevates the patented, time tested and scientifically proven Resonance Clutch Spring in a new calibre, giving the technology a facelift and offering an understated aesthetic profile. The 43mm case has been crafted from platinum and the movement, created in-house, has been produced in traditional watchmaking metals. The movement is clearly at the in-house, has of this distinctive timepiece, which offers minimalist dial components and subtle decoration. Staying true to the concept, the Resonance Clutch Spring and dual balance wheels cantilever off the edge of the movement, drawing the eye to Armin Strom's technical innovation.

The Manufacture decided to create something unique for this fifth anniversary a work of art that honours resonance technology and pays tribute to the roots in skeletonization. Zeitgeist's movement was painstakingly produced, piece by piece, so as to highlight the resonance mechanism.
January 13, 2022