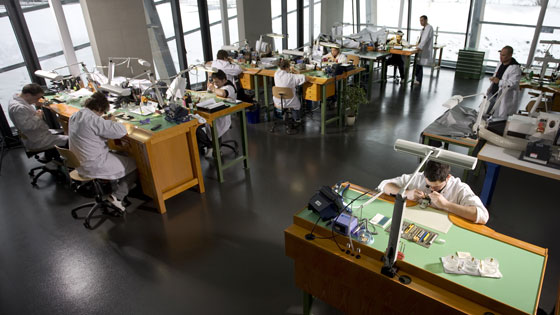 On 30 September 2021 there were 57,491 people working in the watch and microtechnology sector, 59 fewer than the previous year (-0.1%), according to the annual industry census carried out by the Employers' Federation of the Swiss Watch Industry (CT).
This stabilisation reflects the positive effect of the reduced working hours scheme used during the health crisis. The latter made it possible to maintain qualified personnel within the production facilities and thus to respond rapidly to the strong recovery in Swiss watch exports as of spring 2021. Although this upturn will vary according to price range, it gives grounds for optimism regarding the development of the workforce in 2022.

As a true barometer of the sector, the number of employees working in production facilities remained very stable in 2021, with an increase of 16 positions. Administrative staff are down by 99 (-0.7%) and management staff are up by 24 (+1.5%).

The number of employees with a vocational diploma is 25,665 (-2.8%), while the number of those with higher education is increasing (+3.4%). The proportion of qualified staff now represents 70% of the total workforce.

The top three watchmaking cantons in terms of staff numbers remain Neuchâtel (15,063), Berne (12,301) and Geneva (10,499). These three cantons, together with Jura, Vaud and Solothurn, make up the "watchmaking arc", where most of the sector's resources are concentrated, with 53,134 workers (more than 92% of the total workforce).

The cantons of Neuchâtel, Berne and Vaud show a fall in the number of employees of less than 1%. The figure for the canton of Solothurn is -5.4%. As in 2020, the cantons of Geneva and Jura recorded an increase in headcount of +1.5% and +2.1% respectively.

Companies subject to the Collective Labour Agreement (CLA) signed with the sector's unions are in the majority: they account for three quarters of them (511 units), employing 49,007 people. In other words, in 2021, 85.2% of workers were employed in companies subject to the sector's CLA. The watchmaking industry is one of the most regulated economic sectors in the country.
January 13, 2022