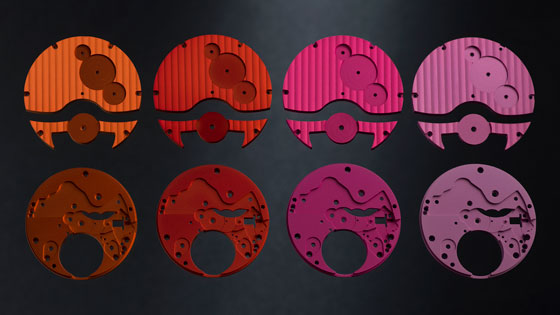 Specialising in surface treatments based on PVD and ALD technologies, the company in La Chaux-de-Fonds is broadening its range of products and services and presenting a world first by integrating colour gradation to coat watch components. Whether tone-on-tone or in bursts of colours, the range is truly vast.
Since 2004, Positive Coating has distinguished itself in the development of innovative solutions for surface treatments based on PVD (Physical Vapour Deposition) and ALD (Atomic Layer Deposition) technologies. Its core business is decorative coatings for luxury goods (metal, ceramic, glass and plastic).
PVD processing
PVD is a family of vapour deposition processes, including evaporation, sputtering and cathodic arc technologies. Positive Coating uses sputtering more specifically, a technique serving to coat items made from various materials with a thin decorative and/or functional coloured layer approximately one micron thick. This type of treatment is used to obtain unalterable colourations while preserving the finishes and decorations of the surfaces (polished, satin-finished, microblasted, Côtes de Genève, circular graining, etc.).

The PVD treatment consists in coating parts in a pre-evacuated sealed chamber. It works on the physical principle of bombarding a target with plasma. Atoms emitted from the target are projected onto the components and the coating is created by a stacking effect. The chemically neutral environment of the enclosure makes it possible to achieve very pure and regular coatings.
ALD treatment
Since 2014, Positive Coating has been offering Atomic Layer Depsoition (ALD) technology, which enables thin layers of material to be vacuum-deposited using gaseous precursors. This treatment is distinguished by a wide range of colours and shades of colour, perfectly repeatable and applicable to parts with complex 3D geometries.

Control of the layers deposited on a nanometric scale results in a tiny excess thickness in order to preserve the mechanical surface decorations. This treatment guarantees excellent protection against corrosion of metal substrates.
Colour in all its shades
Thanks to a perfect command of its technology and the know-how of its engineers, Positive Coating has mastered the development of unique colours. Here we present some of them, including the new rainbow coating, a world first.
Rainbow coating
Science often draws its inspiration from the observation of Nature. Positive Coating has worked on an interpretation of the rainbow based on its expertise in PVD and ALD treatments. Watchmaking design has always been interested in rainbow colours to chase away any sense of dull gloominess. Manufacturers offer colour gradients through the setting of precious stones to bring a dynamic touch to their creations. The company from La Chaux-de-Fonds proposes a wide range of possibilities in this area, from tone-on-tone gradients to a firework display of rainbow colours.

Depending on the option chosen, the colours and shades give a special touch to the design of the components and models thus attired. Colour gradients are a strong trend and used as a symbol of many causes. Gradually asserting itself in recent years, they offer a gradual transition from one shade to another, adding depth to the design with bright, vibrant hues and a boldly colourful dimension. Designers are adept at these colour combinations, which change depending on the angle from which they are viewed. Colour is as important as form or material.

Colour has often been relegated to the background in the design process, yet it has the ability to capture an emotion, to influence a mindset, to change the perception of a design or an object.
Pastel shades
Whether pink, lilac, pale blue, almond green or sand, they add a gentle touch to designs. Positive Coating develops coatings in pastel shades featuring soft variations of primary and secondary colours. The word pastel is derived from the stick-type crayons made from powdered pigment paste used for watercolour painting. These hues have a regressive dimension evoking the infinite tenderness of childhood and their delicious sweetness evokes the colours of marshmallow, cotton candy or ice cream.

When associated with grey, pastel shades gain in subtlety by creating distinctive relief and depth effects. They can be combined with each other or in monochrome shades and work wonderfully with natural materials such as leather. When paired with the gleam of noble metals, pastel colours are highlighted and reveal their precious nature.
Graphic and mesmerising coatings
Kinetic art was the starting point for Positive Coating to develop this new decorative approach. By combining several technologies, the family business has developed a collection of selective treatments called HybriDeCo.

The graphic pattern created by the contrasts between the colour of the coating and the colour of the substrate or another coating creates a mesmerising and singular result. These graphic effects add character to the components or models that receive this treatment. The optical illusions thus obtained play with our perception of the object. This field offers an infinite range of creative possibilities.
Stripes make their mark
Chic and timeless stripes are among the motifs that have stood the test of time, inspiring the greatest designers and resulting in variations such as the Breton jersey striped sailor top by Jean-Paul Gaultier, coloruful garments and accessories by Paul Smith, zigzags by Missoni...

Stripes are part of the collective unconscious. It is therefore quite natural that Positive Coating has used them to offer different variations in order to adorn watch components. It's a small step from the formal pinstripe of the English suit conveying a sense of authority and professionalism to the elegant and nonchalant stripe with a more relaxed vibe – and it is all a matter of style. Stripes are expressed in different ways depending on their design, playing on thickness, rhythm and colour.
An alternative to rhodium
Rhodium is a hard and resistant material with a brilliance similar to that of silver. It is frequently used to coat watch components. Its limited availability in terms of natural resources – corresponding to about 25,000 tonnes per year, mainly mined in South Africa which accounts for 80% of world production – along with growing demand have driven up prices. At the end of March this year, the price of this metal was 15 times higher than gold and 35 times higher than five years ago.

For several years Positive Coating has been looking for an alternative to rhodium. It now offers a new treatment that has the advantage of being perfectly consistent with rhodium (exact replication of the surface topography) while boasting nanometer-range uniformity. It therefore meets the highest requirements of microtechnology in every respect and is a valuable replacement for rhodium, particularly on tungsten monobloc oscillating weights.
Certifications
Keen to respect human rights, Positive Coating is a member of the Responsible Jewellery Council (RJC) and therefore meets the high standards of this certification. The company also complies with the REACH directives, which protect human health and the environment from the potential risks of chemical substances.
Positive attitude
"It is by instilling positive values that you develop a winning team", says company CEO Pierre-Albert Streinmann. Since its creation, a positive and bold approach has guided every decision taken by the company. It has created a working climate and atmosphere where fun, authenticity, transparency, well-being and the human dimension are key elements. This positive mindset fosters creativity, productivity and in-house development.
October 14, 2021