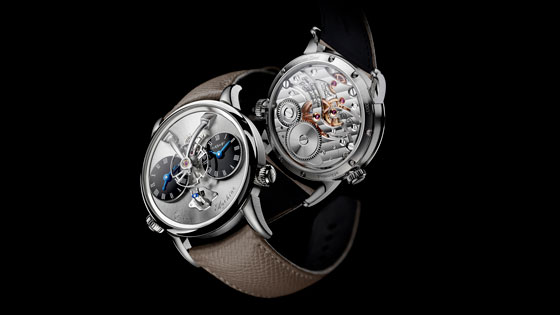 MB&F has decided to auction one of the initial Legacy Machine N°1 (LM1) prototypes in celebration of the collection's 10th anniversary.
This one-of-a-kind timepiece marks the birth of the LM1 series, first presented in 2011. The end of the series was announced in 2017 with a Final Edition of 18 pieces, giving the MB&F team the time to explore other creative horological avenues.

Since all the LM1 editions have now been sold, the only way to commemorate this important anniversary was one of the original prototypes. This historical piece is not only an important part of MB&F history, it is also a rare occurrence as the brand hardly ever produces one-of-a-kind creations, making the ones that exist highly sought-after pieces.

This LM1 "Longhorn" follows on from the HM4 Thunderbolt prototype, which was also sold on the 10th anniversary of the HM4 collection (in 2020) to one of the brand's most avid collectors in a private sale. To make this second prototype sale fairer for all brand aficionados, MB&F has decided to auction this timepieces at the sale organised in Geneva on November 7th by Phillips in Association with Bacs & Russo – and to donate a significant portion of the proceeds to Save The Rhino International.

During an internal brainstorming session, the idea came up to link the nickname of the LM1 "Longhorn" to an endangered species, famous for its long horn: the rhinoceros. MB&F selected Save The Rhino International (SRI), a London-based organisation striving to protect all five species of rhinoceros in Africa and Asia.
October 14, 2021