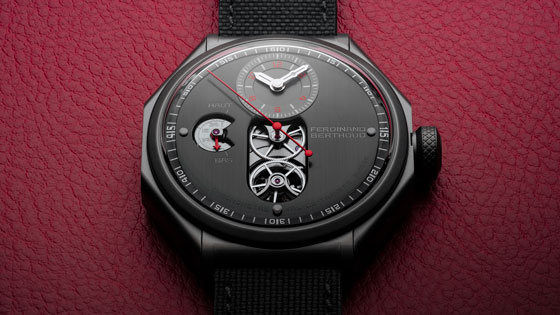 Ferdinand Berthoud has unveiled the Chronometer FB 1.6-3, a one-of-a-kind timepiece crafted for a charitable purpose. Exclusively designed for the Art in Time watch gallery in Monaco, this all-black creation is particularly sporty.
In a first for the Manufacture, Chronométrie Ferdinand Berthoud has applied an all-black DLC treatment to the fine sand-blasted steel. The crown is fitted with a ceramic insert, while the case-fastening screws are in titanium.

The vertical satin-finish dial features a semi-matt black galvanised treatment. The even-numbered hours, seconds hand, and power reserve stand out vividly in red. The combination of dark black and bright red contributes to the sporty feel of the piece, as well as making its indications effortless to read.

To complete the nod to Art in Time's Monaco identity, the Chronomètre FB 1.6-3 features a white seconds scale and minutes circle, thus echoing the House of Grimaldi's two heraldic colours, red and white. In line with the gallery's tradition of unique pieces, part of the proceeds from the sale of the watch will be passed on to the Prince Albert II of Monaco Foundation, dedicated to building a sustainable future.

For the best part of 15 years now, through his Foundation, HSH Prince Albert ll of Monaco has been actively involved in protecting the environment and promoting sustainable development to counter threats to the planet. Committed to research, technological innovation and tackling major social challenges, the Foundation funds projects in the Mediterranean basin, the polar regions, as well as the world's least socially and economically developed countries. Its goals are to mitigate the effects of climate change, promote renewable energy, preserve biodiversity, manage water resources and fight against desertification.
September 30, 2021