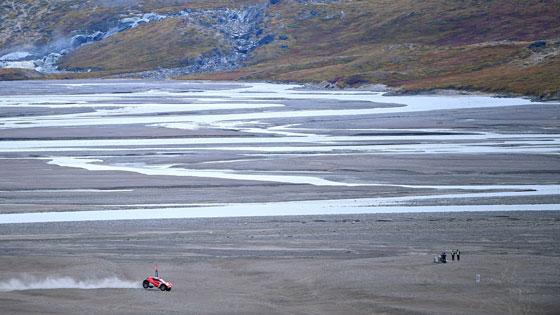 After kicking off the inaugural Extreme E race on the desert dunes of Al Ula in Saudi Arabia followed by the mangroves of Lac Rose in Senegal, the third race in the debut season took place in an unprecedented location for motorsports: the Russell Glacier near Kangerlussuaq in Greenland.
Its wild arctic terrain provided a new type of challenge for the new electric racing championship; something that has never been done in this remote part of the arctic circle. As the Official Timekeeper and Founding Partner of Extreme E, the new off-road electric racing championship that highlights remote environments under threat of climate change and pollution, Zenith joined the teams for the glacial adrenaline-filled race. With its mixed terrain consisting of rock sizes from large boulders down to a fine glacial sediment and sand dunes, crafted and shaped by the wind blowing down the valley and the melting water coming off the glacier, the course provided an unprecedented and truly one-of-a-kind setting.

Beyond just providing a thrilling race however, choosing Greenland as the venue for the Arctic X race was of paramount importance for Extreme-E. There, among the shrinking glaciers and uninhabited terrains, one can witness the undeniable and dramatic impact of climate change, which is ravaging the local landscape and wildlife and consequently having a negative impact on the entire planet.

Highlighting these pressing issues and supporting scientific research and solutions are the goals of Zenith's "The Future is Green" initiative, devoted to building a more sustainable and environmentally friendly world through action and education. A dedicated programme aims to raise awareness among local populations and to launch new initiatives in the areas where the races take place. These programmes are systematically adapted to the locations.
September 16, 2021