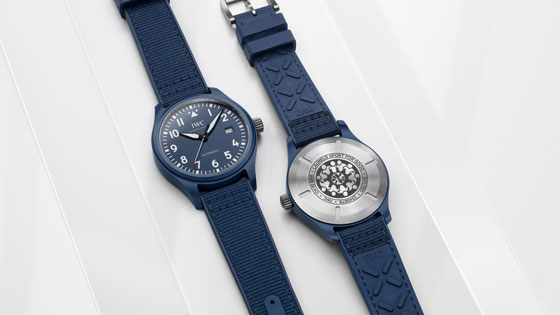 "Sport has the power to change the world". The work of Laureus Sport for Good follows this powerful guiding principle established by Laureus' Founding Patron, Nelson Mandela.
Currently, the foundation supports over 250 programmes in more than 50 countries worldwide, using sport to transform the lives of children and young people and end violence, discrimination, as well as disadvantage. Since 2006, IWC Schaffhausen has issued a special edition timepiece in honour of Laureus Sport for Good each year.

The Pilot's Watch Automatic Edition "Laureus Sport for Good" (limited edition of 750 pieces) is the 15th Laureus special edition. It comes with an exclusive first: In addition to the dial in the trademark Laureus blue, a blue ceramic case has been used for the first time. The dark blue hue of the ceramic is the result of a complex manufacturing process. Powdered zirconium oxide is mixed with other metallic oxides, shaped, and then sintered in a furnace. Coloured ceramics place enormously high demands on the quality and purity of the raw materials. On the blue dial designed to mimic a cockpit instrument, the time can be read at a glance. Thanks to the luminescent coating, this is possible even at night.
As is the longstanding tradition with the Laureus special editions, the titanium caseback is engraved with the winning design from the drawing competition that IWC organises every year within all the programmes supported by Laureus Sport for Good. It was created by 12-year-old Melissa Mejía Castilla from Colombia and is entitled "Vivir en Armonía" (Living in Peace).
September 16, 2021