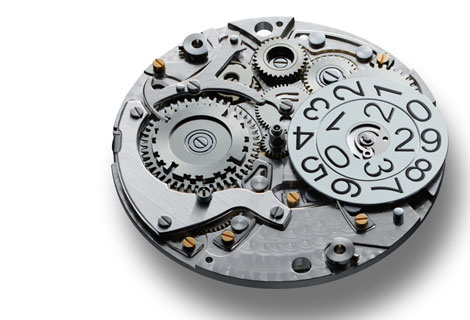 In 1901 Marcel Dépraz created his own company to highlight his inventiveness and his ability to create complicated movements.
Four generations later, and to celebrate its 120th anniversary, Dubois Dépraz is unveiling its latest creation, a perpetual calendar with a large date display. This profoundly understated horological complication goes straight to the heart of the matter – namely managing months with 28, 29, 30 or 31 days over a four-year cycle – and the date indication appears in an exceptionally large aperture.

To ensure this reference stands out from the more classic versions already in its catalogue, Dubois Dépraz started from scratch in order to focus on the essential perpetual calendar information, namely the four-year cycle as well as month and date indications. As far as the latter is concerned, the emphasis was placed on legibility thanks to two concentric and coplanar discs in a single window, with no separating bar between the numerals. This design, along with an innovative fast correction system for the months and date, are the subject of two patents.

Calibre DD 56000 calibre will require no date correction until March 1st 2100, when the mechanism will require a one-day adjustment. The Gregorian calendar provides for the suppression of a leap year every 100 years. But rest assured that while the operation will have to be repeated again in 2200 and 2300, it will not be necessary in 2400!

The mechanism measures 32mm in diameter and just 2mm thick. It is easily adaptable to any generic or dedicated Manufacture movement. The fast date and month adjustment is done using a single corrector.
September 09, 2021