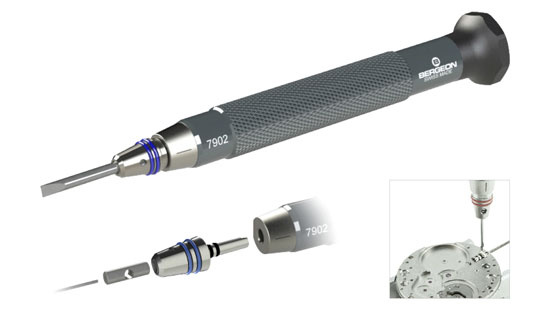 After more than ten years of restructuring, Bergeon has become a fully-fledged Manufacture and now offers a new screwdriver designed for refitting work in the watch and optical sectors.
This tool is equipped with a stainless steel quick adaptor, two coloured rings for enhanced identification of the bit diameter and a stainless steel reduction sleeve (external diameter 3mm/internal diameter 0.5 to 2.5mm). The eight-sided head made of synthetic material ensures enhanced ergonomics.

Following the firm's reorientation, more than 60% of staff based in La Chaux-de-Fonds-based is dedicated to producing equipment and tools marketed by the company. The machining sector now occupies some 1,500m2 and houses a state-of-the-art machine fleet with some 20 CNC machines, several of which are equipped with robots, enabling it to produce a large proportion of its products labelled "Bergeon Manufactured".
September 09, 2021