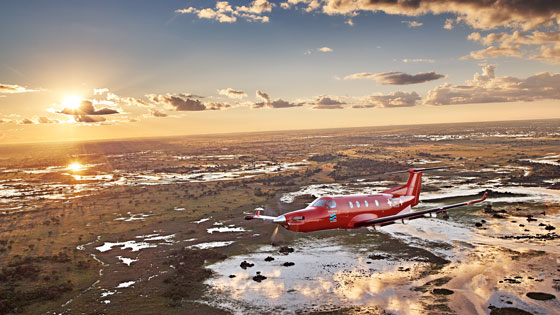 Oris marks the 10th anniversary of Botswana's aeromedical rescue organisation Okavango Air Rescue with a limited-edition version of the Big Crown ProPilot.
Imagine looking at a map of Africa for a place where you can make a difference. With its huge geographic and demographic diversity, how would you ever decide where to go? This was the question Swiss entrepreneur Christian Gross and German-born Dr Misha S. Kruck answered for themselves in 2011 when they founded the aeromedical rescue organisation Okavango Air Rescue (O.A.R.) in Botswana to service a sparsely populated country with lots of remote communities.

Oris has unveiled its partnership with O.A.R., and a watch made to celebrate the service's 10th anniversary. This new timepiece is based on the Oris Big Crown ProPilot. Its green dial is inspired by the grasses of the Okavango Delta, and it comes on an exclusive fabric strap created by Erika's Originals.

It is one of the Seven Natural Wonders of Africa, covers a flat area of more than 20,000km2, and in 2014, it became the 1,000th site to be inscrived onto the UNESCO World Heritage List. Botswana's Okavango Delta is one of the most spectacular sites on Earth. The delta, which is made up of grasslands, marshes, lagoons and thousands of islands, is produced by seasonal flooding, peaking between June and August, Botswana's dry winter months. During this period, it swells to three times its normal size, causing one of Africa's greatest concentrations of wildlife.
September 02, 2021