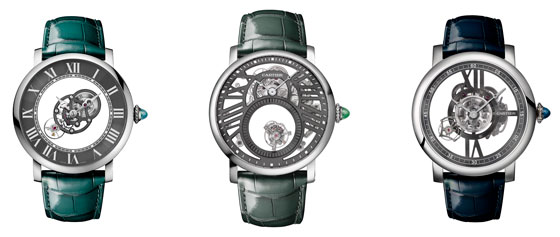 Inspired by its first mystery clocks, Cartier is unveiling three mechanical timepieces expressing time around the theme of the tourbillon, a true classic of the watchmaking repertoire.
Rotonde de Cartier Astromystérieux, Rotonde de Cartier Astrotourbillon, Rotonde de Cartier Skeleton Mysterious Double Tourbillon – each revealing how time is showcased through the architecture of a skeleton movement, the hypnotising mysterious model, or in the complexity of a Double Tourbillon.

At the centre of this vision are two complications dear to the brand: the mysterious movement and the skeleton. Cartier's mysterious movement appeared in 1912 on a clock called "Model A" whose completely transparent dial showcased two hands that appeared to be suspended in mid-air. This unprecedented innovation was developed at the beginning of the 20th century by Maurice Couët, one of the Maison's watchmakers. Inspired by the work of the illusionist Jean-Eugène Robert-Houdin, he devised an exclusive system that was brought to life on this first clock.

Cartier has designed an extremely precious, lacquered wooden box for these three exceptional watches, celebrating a craft that is dear to the Maison: wood marquetry. The marquetry artisan applies meticulous shading with an airbrush to create movement, depth and relief on very thin pieces of wood in six different colours, resulting in a green, blue and grey gradient.

Once assembled, these tiny pieces of wood form a pattern composed of three interlocking spirals. At the centre of each one, an optical lens reveals the dial of a watch. Between the visual-movement effect of the pattern, the wood veins and the colour gradient, the result is extremely vibrant. The palette of shades reflects those of the watch straps.

The wooden marquetry boxed set also includes a travel pouch in alligator leather and a pair of white gold cufflinks with three interchangeable stone bars in sodalite, jade and blue quartz. A prestigious and ultra-exclusive edition limited to five boxed sets.
April 08, 2021