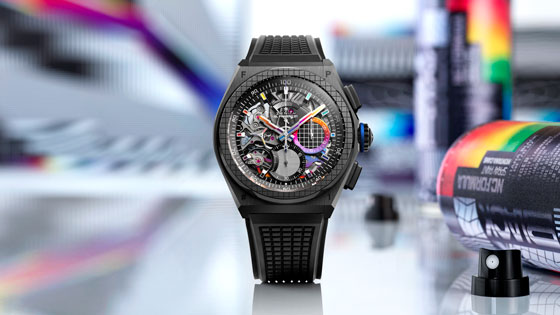 A global sensation, Argentinian-Spanish artist Felipe Pantone has reached his star in becoming one of the brightest talents in the world of contemporary art.
Zenith and Felipe Pantone began their collaboration in 2020, when the Manufacture offered the façade of its main building as a canvas to the contemporary artist. Now, Felipe Pantone has reimagined brand's most advanced chronograph to date, created an object that is at once a feat watchmaking prowess and a piece of wearable kinetic art.

The result of this unexpected yet coherent collaboration is the Defy 21 Felipe Pantone, a strikingly colourful creation that is all about playing with frequencies, visually and mechanically. With its El Primero 21 chronograph movement, this timepiece is a logical choice of canvas onto which Felipe Pantone could express his "visible spectrum concept", where all the detectable frequencies of light and its refracted colours come into play with the chronograph.

Just as Felipe Pantone constantly explores novel techniques and tools to create his bold works of art, Zenith pushed the boundaries of innovation when it came to executing Felipe Pantone's version of the Defy 21 – to the extent of having to develop new techniques previously unheard of in watchmaking. One of its most striking features are the multi-coloured bridges, a signature trait in Pantone's work. Using the principal of interference colours, the coating on the bridges reflects a gradient of metallic rainbow tones. Requiring months of trials and finding the appropriate solution with specialists to achieve this rainbow effect, the Defy 21 Felipe Pantone is the first watch to ever use this innovative kind of three-dimensional PVD with silicon particles as a surface treatment on a movement to produce a spectrum of perfectly transitioning colours. While the process has been standardised, each piece will take on slightly different colours, essentially becoming a unique work of art.

The central hour and minute hands are no less extraordinary, taking on an intentionally distorted look resembling the lightning bolts that figure in much of Pantone's work, with a rainbow gradient of colours applied through the same state-of-the-art process as the movement's bridges.

Even the inanimate, external parts of case have been revisited by Felipe Pantone for a dynamic overhaul. The black ceramic features a grid pattern engraved on the bezel and "FP#1" printed on the four corners of the case, denoting "Felipe Pantone El Primero". Allowing the various details of the chromatic dial and movement to stand out, the artist opted for a black textured rubber strap with a warped grid motif. A second rubber strap, with a central insert that goes from dark grey to a flash of all the colours in the spectrum, is also available. With the Defy 21 Felipe Pantone 100-piece limited edition, Zenith is deftly merging the worlds of contemporary art and watchmaking to produce a watch that is as much a high-precision instrument as it is a piece of kinetic, wearable art.
April 01, 2021