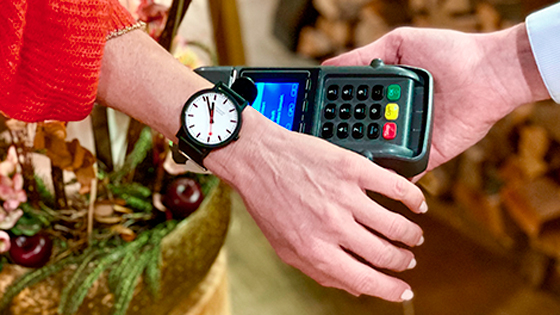 With the introduction of PayChip in 2016, Mondaine Watch Ltd has proven how forward-looking contactless payment is.
In spring 2021, the Swiss brand and its launch partner Cembra will introduce even more flexibility and state-of-the-art technology with Mondaine PayChip 2.0. Cembra Money Bank is one of Switzerland's leading providers of financing solutions and services. The bank is the issuer of Cumulus-Mastercard, TCS Mastercard, Cosy Mastercard Conforama, Fnac Mastercard, Cembra Mastercard and Lipo Mastercard.

The Mondaine PayChip 2.0 works just like an ordinary credit card, worldwide, with the same level of security and the same payment ceiling. The only difference is that the chip is small enough to fit in a bracelet or wristband loop. For the time being, the Mondaine PayChip 2.0, as well as the watch and the special strap loop are exclusively available as a kit in the watchmaker's online shop. After purchase, the consumer simply activates the chip in the Fidesmo Pay application and inserts it into his or her wristband. It's ready to go! The Fidesmo Pay application also enables users to activate, deactivate or even delete their cards in the simplest way possible. The app is available for free in Google Play Store and the Apple App Store.

Mondaine offers PayChip 2.0 with Fidesmo Pay technology on many models from the Mondaine-SBB and Mondaine Helvetica collections.
March 25, 2021