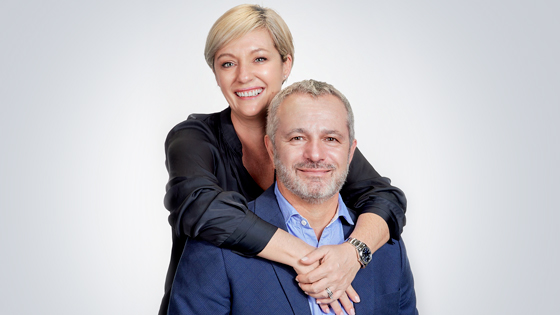 Elisabeth and Frédéric Saulcy
After 15 years of uninterrupted development since its inception, in 2006, by Frédéric Saulcy and Thierry Mesnier who founded the STS company based at Le Sentier, La Chaux-de-Fonds, in Develier and Meyrin and specialises in surface treatment for watchmaking, opens a new page in its history. Elisabeth Saulcy (48 years old) becomes co-CEO of the company with her brother, Frédéric Saulcy (57 years old).
"This change in our governance was planned some time ago, says Frédéric Saulcy. I wanted to take a step back and focus on project management. The shared top management of the company with Elisabeth is therefore today an evidence for everybody because, for the past 7 years, she has been in charge of human and financial management as well as certain sites of the company. She will continue to manage these areas and I will focus on the more technical aspects of our development."

Elisabeth Saulcy joined STS in 2014 after having been assistant to the industrial director at Audemars Piguet. "It is more of a family transition than a real succession, explains Elisabeth Saulcy. We are going to follow in the continuity with this co-director general. My brother and I share the same ambitions for STS: to remain an attractive employer for our 110 collaboraters and our future recruits and innovate in the service of our watchmaking customers, at the example of what we have just done to provide watch brands a high-performance alternative to the worldwide rhodium boom."

This notion of governance and family succession is very important to the Acrotec Group, which remains a federation of companies where each CEO stays the driving force. "This family co-leadership and feminised corresponds perfectly to the DNA of our group", confides François Billig, CEO of the Acrotec Group. The new shared governance of STS with Frédéric and Elisabeth Saulcy is a perfect example of this by combining the technical skills of one with the managerial qualities of the other. A perfect family pairing that reflects the spirit of STS.
March 18, 2021