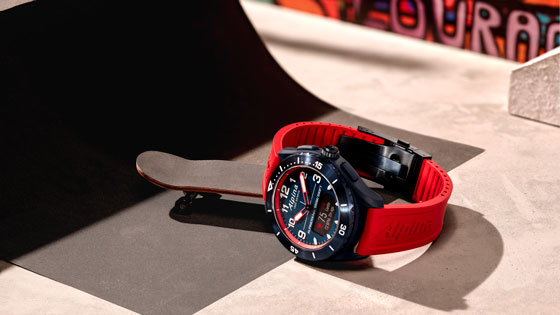 After a pre-launch through an online campaign last spring, Alpina is unveiling the AlpinerX Alive models that have been highly acclaimed by its community and are now available for sale.
Between May 3rd and June 2nd last year, the brand gave fans the chance to customise their own model by choosing from over 1,500 configuration options. Among more than 1,500 design options, 499 configurations were carried out by 48 countries, to develop more than 1,920 AlpinerX Alive timepieces.

Of these 499 configurations, some combinations proved particularly popular: an ultra-sporty red version, a bold and sleek "full black" variation, an urban-inspired design with flashes of blue, as well as a more vintage option combining a black dial and a beige strap.

The Alive version includes a new generation heart rate sensor developed by Philips Wearable Sensing, as well as built-in GPS, not to mention VO2 max and hydration. These new features are offered in addition to the perpetual calendar, second time zone, chronograph, activity monitor, sleep tracker and personalised notifications – all now available on a new high resolution touch screen. The rechargeable battery provides up to seven days' full autonomy.

As part of the pre-launch campaign in spring 2020, the purchase of an AlpinerX Alive involved donations of 25 Euros being made to the Wings for Life charity, which supports people with spinal injuries, most of whom have become disabled, in regaining all or some of their mobility. As a result, a total of 42,000 Euros was donated to the institution.
February 25, 2021