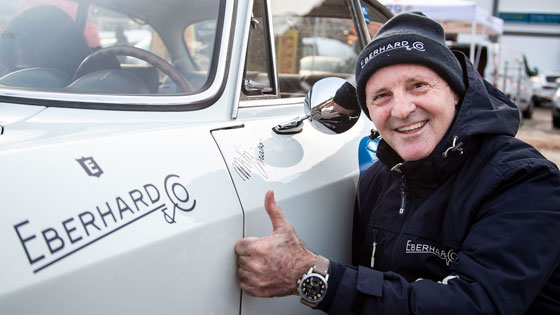 The 2021 edition of the Winter Marathon has crossed the finishing line.
In a unique winter environment, the historical car race saw 88 drivers (chiefly from Italy) negotiate hairpin bends and climb mountain passes at above 2,000m altitude, as they vied for victory in the 65 time trials of the long-established regularity rally in the Italian ski resort of Madonna di Campiglio.

Once again, Eberhard & Co associated itself with this major winter vintage sports car race as Main Sponsor and Official Timekeeper. The brand also competed in the race, fielding a special team consisting of two-times world rally champion Miki Biasion, Brand Ambassador of Eberhard & Co, driving a 1968 Alfa Romeo GT 1750 Veloce with his wife Paola Ramella Paia as navigator.

The freezing, below-average temperatures and the exceptional snowfalls of the last few weeks were not enough to stop Edoardo Bellini and Roberto Tiberti, driving a 1937 Fiat 508 C, from winning by a considerable margin the Winter Marathon's 33rd edition.

The drivers battled it out along a course of over 500km on the most spectacular roads of the Trentino-Alto Adige region, competing in the two-stage regularity race (open to cars built up to 1968 and to vehicles of special historical and collector interest produced until 1976) while enjoying a unique picture-postcard landscape blanketed by snow.

This year, the spectacular Eberhard Frozen Lake Trophy, a knock-out challenge among the top 32 finishers contested on the ice of Madonna di Campiglio's frozen lake, went to Massimo Bisi and Claudio Cattivelli.
February 18, 2021