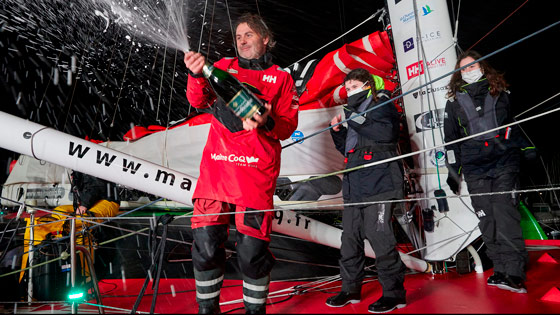 After a legendary solo voyage around the globe, Frenchman Yannick Bestaven won the 2020 Vendée Globe in 80 days, 3 hours, 44 minutes and 46 seconds.
Known as the most perilous ocean race of them all, the Vendée Globe began and ended in Les Sables d'Olonne, in the Vendée. During this non-stop single-handed round-the-world race with no assistance, the 33 skippers faced the freezing cold, huge waves, leaden skies and howling storms of the Atlantic and the Southern Ocean. Often nicknamed the "Everest of the Seas", this more than 40,000km race of departing from the French coast takes place every four years.

This was the second Vendée Globe for French skipper Yannick Bestaven. At the helm of the Maitre Coq IV, he was the third across the finish line. He arrived nearly eight hours behind the leader but won because of the 10 hours 15 minutes time bonus he carried for helping rescue a competitor (Kevin Escoffier) off of the Cape of Good Hope last December. Charlie Dalin was the first to arrive in the Sables d'Olonne, sailing into port after 80 days, 6 hours, 15 minutes and 47 seconds at sea. He was followed by his compatriot Louis Burton.
February 18, 2021