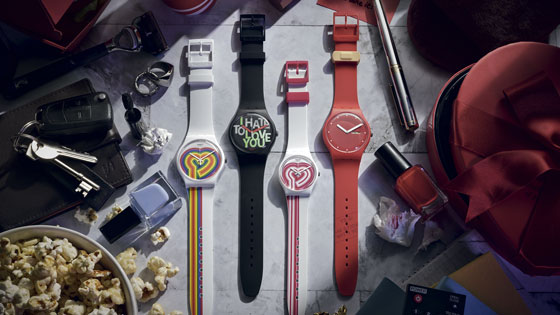 Time is what you make of it. Many believe it can also heal a broken heart.
That's why Swatch is celebrating all the singles and love cynics this coming Valentine's Day with a new collection and campaign that bring a fresh spin and twist to love's most important day of the year. Instead of the usual romantic messages, four Swatch watches feature the opposite sentiment. Each tells a heartbreak story with perfect comedic timing punctuated with style and a hint of sarcasm that's almost therapeutic for the unattached.

The special edition P(E/A)NSE-MOI has a red strap with the well-known heart symbol applied to the strap's back layer. That's not all. The watch comes in a first aid box complete with band-aids to peel and heal the cracks of a broken heart!

HATE 2 LOVE has more than one side to it and is a rollercoaster of emotions. By day the black dial displays the lovelorn phrase "I hate to love you." However, as night falls, the words "I love you" glow from the watch dial.

There is something about the 70s that never goes out of style, and Swatch's love for all things retro never misses a beat. Both the New Gent Beating Love and the Gent Beating Pink capture the mood with rainbow-colored lines that follow the wearer's pulse from the white strap to shape a heart on the dial.
February 11, 2021