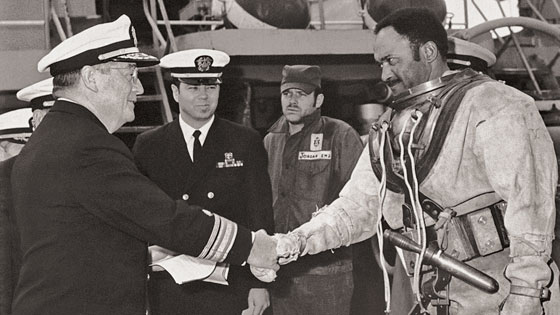 "It's not a sin to get knocked down. It's a sin to stay down." These are the words of Carl Brashear, one of the 20th century's most enduring figures of triumph in adversity.
Carl overcame numerous challenges, both on account of his background and later disability, to become the U.S. Navy's first African American diver and first amputee Master Diver. He is a man of honour and an inspiration to people all over the world.

In 2015, as part of our mission to bring Change for the Better, Oris partnered with the Carl Brashear Foundation, set up in his memory and to continue his legacy.

It is been the brand's privilege since then to work with the foundation and in particular Carl's son Phillip and his family. It is now delighted to announce a third watch bearing his name, the Oris Carl Brashear Cal. 401 Limited Edition, the first watch powered by the new Oris Calibre 401, a high-performance automatic movement.

This timepiece is cased in 40mm of bronze, a material chosen to symbolise not just the diving helmets worn by Carl during his career as a U.S. Navy Master Diver, but also because it's a metal that will tell its own story.

Based on Calibre 400, launched last year, it was designed from the ground up by Oris's in-house watchmakers. As well as being more accurate than a chronometer (to within -3 to +5 seconds a day), it solves many of the mechanical movement problems of our time by offering heightened levels of anti-magnetism, a five-day power reserve and a 10-year extended warranty.

The watch also has a blue dial, inspired by naval tradition, a uni-directional rotating bronze bezel with a diving scale in relief, and a custom-designed, hand-crafted, moisturewicking woven elastic nylon webbing strap produced for this watch by Erika's Originals.

Funds raised by sales of Oris Carl Brashear watches have supported countless veterans and vulnerable people, giving them hope and helping them achieve their goals.
January 21, 2021