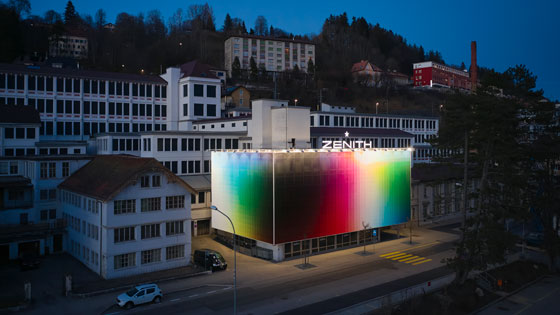 Zenith offers its Manufacture building as a canvas to a contemporary artist, Felipe Pantone. A world-first in watchmaking!
From graffiti on the streets to murals and installations in landmark locations across the globe, Argentinian-Spanish artist has reached his star in becoming one of the brightest talents in the world of contemporary art.

As an artist who grew up during the dawn of the digital revolution, when the physical world was being rendered into the nascent virtual dimension, Felipe Pantone took the opposite approach in his art, bringing design elements from the intangible digital realm into the real world. His work is all about letting go of all the academic training and pre-existing notions of art, in order to create freely and use modern and unconventional tools in realising his vision. This mirrors Zenith's own approach, where its rich history and traditional roots have served it to look ahead and build the future of watchmaking on its own terms.

Themes evoked in Pantone's work, which ranges from paintings to interactive kinetic objects and massive public installations, include dynamism, transformation and digital revolution. Polarising and never leaving observers indifferent, Felipe Pantone's work is instantly recognisable and coveted by art-lovers and those with an eye for radical design.

With Zenith Manufacture's main building's tarpaulin as a canvas, the artist designed a massive creation covering the entire building's façade in his signature style, combining a striking range of colours with digital graphics. A first for any watch manufacturer and particularly groundbreaking for one whose premises are on the UNESCO World Heritage Site of Le Locle, this collaboration between a historical watchmaker and contemporary artist is a testament to Zenith's innovative, daring and out-of-the-box approach for all to admire.
January 14, 2021