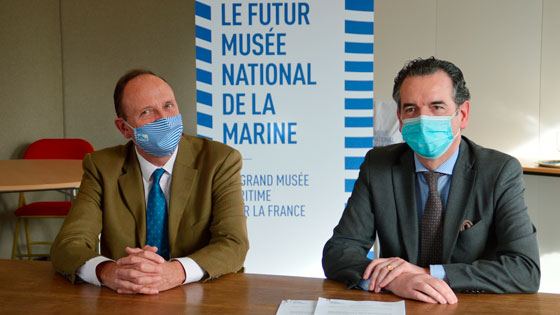 Closely involved in the maritime world for many years, Breguet has recently become involved with the National Maritime Museum in Paris, to which it will provide specific support during ongoing renovations.
The history of navigation is long and complex, born of endless experimentation and ingenious inventions. Initially based on an oral tradition, then developed by scientific works and instruments, the art of navigation has been evolving continually throughout the centuries.

In order to highlight the history of maritime science and watchmaking, the museum will unveil, at its next reopening scheduled for 2022, a new area called se repérer en mer (getting your bearings at sea). This 150sqm hall, designed as a backdrop, will feature some key objects from the museum's collection: ship models from different civilisations, ancient navigational instruments, modern electronic instruments, as well as buoys and headlights, all full-scale.

The objects on display will include the naval chronometer N°5072 that was produced from 1817 to 1818 in the workshops of Abraham-Louis Breguet, founder of the House of Breguet. Throughout his decorated career, he never ceased to demonstrate his exceptional skill in time measurement. His dedication and his many inventions earned him major recognition and distinction. King Louis XVIII of France initially appointed him member of the French scientific institution Bureau des Longitudes before awarding him the official title of Watchmaker to the French Royal Navy in 1815. This is the most prestigious title a watchmaker can receive given the scientific competency implied by the very notion of naval watchmaking. It also represents a role of paramount importance to the country. At that time, naval chronometers served a crucial purpose for fleets, and were absolutely indispensable to the calculation of longitude at sea. Breguet devoted himself thoroughly and enthusiastically to his role as Watchmaker to the French Royal Navy; major expeditions were run using Breguet naval clocks and Breguet would supply the French Navy for almost 150 years.
January 14, 2021