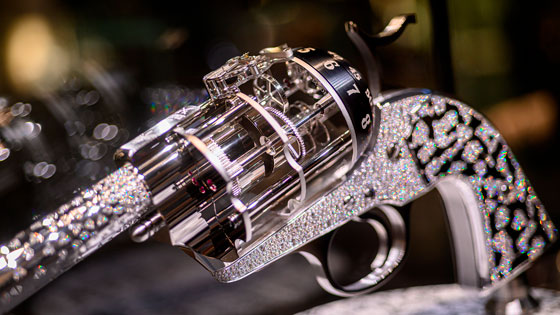 On the occasion of a beautiful event in Monaco at the Art in Time gallery, L'Epée and The Unnamed Society unveiled the second chapter – The Diamond – of a new class of hyper-exclusive objects that redefine the art of gifting the unique and take the experience of creativity, aesthetics and craftsmanship to a whole new level
The latest creation is a table clock inspired by a revolver, a singular form of expression for telling the time: it aptly symbolises the preciousness of every moment, the speed at which it can be stolen. It reminds us, more vividly than a conventional clockface possibly could, of the timeless truth in the words "Carpe diem".

The gemsetting is carried out by the Salanitro workshops, a world reference in this domain and the leader in the creation of various gemsetting options for Swiss Haute Horlogerie. The table clock comprises 2,518 diamonds totalling 78.26 carats with 21 different sizes of gems. It is an exceptional work representing over 140 hours of production and more than 300 hours of gemsetting by 6 Master Setters in the workshops located at the heart of the city of Geneva.

The "snow spirit" setting applied to The Diamond calls for a particularly difficult and meticulous grain gemsetting technique that only few expert setters have mastered to cover such a large surface whilst maintaining a beautiful and elegant homogeneity. To compose this particularly refined snow setting, of which the gradient effect adorning the barrel recalls the lingering smoke after the revolver has been discharged, Salanitro's artisans set hundreds of diamonds, all brilliant-cut and only seemingly arranged at random, of different sizes and with a minimum amount of metal between the stones. The rendering is very sophisticated and the technique, regarded as the Haute Couture of gemsetting, ensures unparalleled brilliance and sparkle. The "snow spirit" setting represents one of the most beautiful ways to express the aesthetics of an object, combining a sense of artistry with excellence in terms of execution.

As to the grip, it is made of black lacquer, another ancestral technique that requires particularly delicate mastery and artisanal know-how.
January 07, 2021