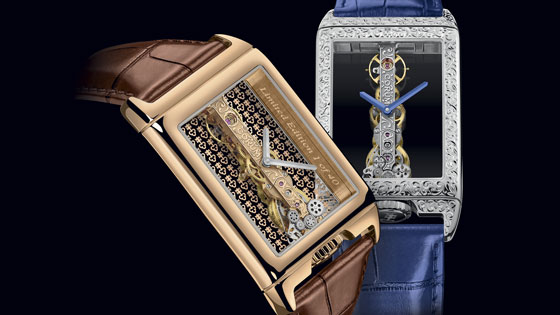 The refined rectangular look of the Golden Bridge is the original case shape of this iconic in-line baguette movement that was introduced 40 years ago by the avant-gardist founder of Corum, René Bannwart.
Since then, the Golden Bridge became an icon in the industry, because it was the first timepiece to be fully transparente, revealing the work of the watchmaker and the beauty of the mechanics. Corum decided to pay tribute to the very first model from the collection by introducing two new limited edition models to celebrate this 40th anniversary.

For the first iteration of the Golden Bridge Rectangle, Corum added an astonishing play of finely handcrafted floral engraving on the 18-carat white gold case to create yet another classic edition of the signature Haute Horlogerie timepiece. The acanthus and fern plants are a nod to the "Style Sapin" created in La Chaux-de-Fonds. These floral details have been engraved on all Golden Bridge baguette movements since the timepiece was launched in 1980. This masterpiece is limited to three pieces honouring the three co-founders of the Brand which was born in 1955.

While the Golden Bridge is proudly honouring its 40th anniversary, Corum is also celebrating its 65th birthday. The 18-carat rose gold version salutes the 40th anniversary of the Golden Bridge collection with an original "Limited Edition 1 of 40" engraving inside the watch case at 3 o'clock and honouring 65 years since the brand's creation with Corum's iconic symbol – the key – on the sapphire caseback. Faithful to the roots of the collection, this timepiece features an 18-carat gold Golden Bridge baguette movement.

The watchmaking brand was inspired by the Art Deco period, which formed the basis for some of the first pieces designed by René Bannwart. By featuring Corum's iconic key emblem on the sapphire caseback for the rose gold version, and hand-engraving on the entire case of the white gold iteration, these models not only mark the anniversaries of Corum and the Golden Bridge but also pay tribute to the artisanal history of watchmaking in La Chaux-de-Fonds.
December 17, 2020